France's Hollande says not to join 2017 presidential race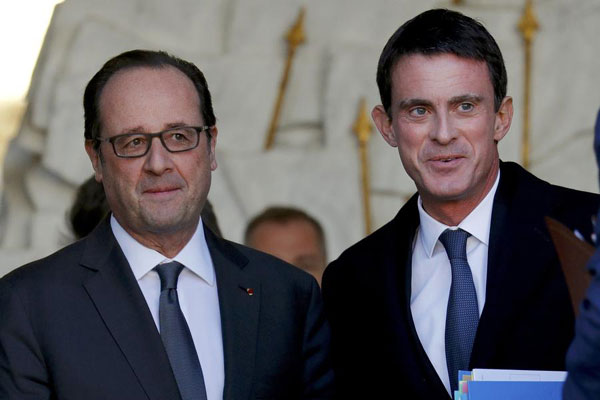 French President Francois Hollande (L) speaks with Prime Minister Manuel Valls as he leaves the Elysee Palace in Paris, France, November 30, 2016 following the weekly cabinet meeting. [Photo/Agencies]
PARIS - French President Francois Hollande on Thursday said he will not seek a second mandate in 2017 presidential election due to broken promise on unemployment and long sliding approval rating.
"Today, I am aware of the risks that would trigger a process that would not gather enough support. So, I decided not to be a candidate in the presidential election," said Hollande.
"I do this by taking all my responsibility, but also by calling for a progressive start. What is at stake is not a person but the future of the country. I do not want France to expose itself to dangerous adventures," he added.
Meanwhile, the Socialist leader defended his reforms, saying reform "results are coming" but later than predicted.
In a 10-minute televised speech, Hollande said he would now focus on leading euro zone's main powerhouse in the months until the presidential election scheduled for April 23 and May 7.
After five years in power, the Socialists and the broader Left are weakened by internal upheavals and their popularity was affected by high unemployment rate and rising security concerns. Many believe it is very difficult for them to take on the right-wing and the far right party in the upcoming presidential election.
Besides, long-sliding popularity of Hollande has increased pressure on the Socialists to seek a right candidate who has enough credentials to pass the first round.
As left primary is approaching, Hollande's decision to quit the race for a second term is likely to pave the way for his prime minister Manuel Valls who said "ready" to take part in the competition.
Seven contenders including former ministers Aranud Montebourg and Benoit Hamon have announced to participate in the two-round left-wing primary scheduled for Jan. 22 and 29.
Ex-economy minister Emmanuel Macron has launched his own campaign, a fact likely to splinter votes and pulverize the Left parties' hope to maintain power in 2017.
French pollsters predicted the incumbent French president would lose in the first round of upcoming election by winning only 15 percent of the votes.
Opinions polls also showed that no left-wing candidate will cruise to the run-off in May 7.
In May 2012, Hollande was elected the first Socialist president in 17 years with nearly 52 percent of votes over the conservative Nicolas Sarkozy.
He imposed more taxes on the rich, moved away from austerity-only policies and introduced measures to boost economic growth.
However, during his days in office, he suffered a setback due to broken promises to bring down unemployment rate and his launch of controversial labor reforms which triggered massive streets protests.
Adding to that, a publication of private conversations with two journalists in a book titled "A President Should Not Say That," he drew criticism from many people.
Critics doubt his presidential credentials, saying a president should not confess so much and unveil classified information few months ahead presidential elections.