Chinese company to build Qatar World Cup stadium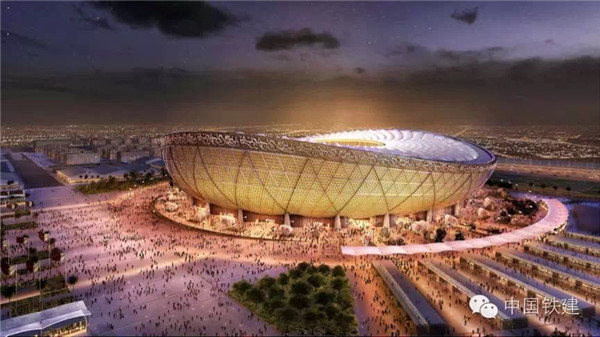 The picture shows the look of the Lusail stadium, the construction of which is due to be completed by 2020. [Photo from Wechat] 
China Railway Construction Corp (CRCC) has won the bid to build the main stadium of the Qatar 2022 World Cup final, the State-owned company announced on Wednesday.
A joint venture between CRCC and Qatari contractor HBK Contracting (HBK) will be formed to work on the construction project. The contract is said to be worth $767 million, with the Chinese firm accounting for 45 percent.
The stadium, located in Qatar's coastal city Lusail, will host the opening and final matches of the football tournament.
This is also the first time that a Chinese infrastructure project provider is chosen as a main contractor to build a World Cup venue.
"It is not yet known whether Chinese men's football team will qualify for the Qatar World Cup finals, but at least the World Cup will feature some Chinese element," CRCC said on its official WeChat account. "We look forward to see the Chinese team play in the 'Chinese-built' stadium in 2022."
Lusail Stadium vs Bird's Nest

Compared with the 2008 Beijing Olympic game's main venue the National Stadium, also known as the Bird's Nest, the 92,000-seater Lusail stadium is designed to be the world's largest membrane-structure building, incorporating 45,000 square meters of membrane.
Meanwhile, about 100,000 metric tons of steel will be used during the construction process.
Construction work is due to be completed by 2020.
Zhong Nan contributed to the story