Brazil declares three days of mourning for soccer team killed in plane crash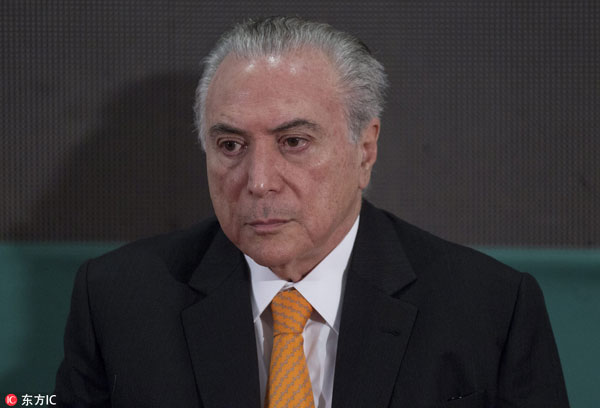 Brazil President Michel Temer participates in the award ceremony of the Brazilian Merit Award for Governance and Public Management, in Brasilia, Brazil, November 29, 2016. [Photo/IC]
RIO DE JANEIRO -- Brazilians on Tuesday mourned the loss of an up-and-coming soccer team that was among the victims of a plane crash late Monday.
Brazilian team Chapecoense was heading to a championship final in Medellin, Colombia, when the LMI2933 charter flight carrying a total of 81 passengers went down just kilometers from the destination airport.
According to Brazil's G1 news website, six people were believed to have survived, including three football players, two members of the flight crew, and a sports reporter. As many as 21 journalists accompanying the team were killed.
Dressed in the club's green colors, relatives of players and fans of Chapecoense, which was to play the first final match of the South American Cup on Wednesday, gathered at the team's stadium to receive news and grieve.
Brazil's President Michel Temer declared three days of mourning and offered assistance to the families of the victims.
World soccer body FIFA, Brazil's Soccer Confederation (CBF) and the South American Soccer Confederation (Conmebol) all issued statements lamenting the tragedy and offering condolences.