Chinese dance drama stuns British audience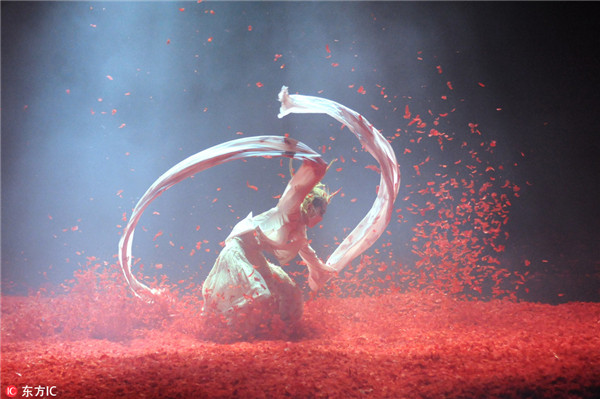 A Chinese dancer performs during a performance of Yang Liping´s new dance "Under Siege - The Full Story of Farewell My Concubine" in Shenyang city, northeast China´s Liaoning province, July 12, 2016. [Photo/IC]
A Chinese dance performance, "Under Siege", which re-tells a thousand-year-old Chinese story in a 'unique' way, has premiered at London's Sadler's Wells Theater.
Directed by renowned Chinese choreographer and dancer Yang Liping, the performance opens with 20-thousand pairs of scissors hanging from the ceiling of the stage at the Sadler's Wells Theatre.
From there, a tragic battle scene plays out through the traditional use of red feathers.
The theatrics are meant express to the audience the story of a climactic battle between the Chu and Han armies, an encounter that changed the course of Chinese history.
"The sets were very impressive: the scissors hanging from the ceiling and the red feathers on the ground. They were very impressive."
"Absolutely stunning, and visually it was just incredible. And the whole thing was brought together in the most beautiful and incredibly fluid way."
"Under Siege" itself is designed to integrate varioius kinds of Chinese cultural elements, including Kung fu, Peking Opera, traditional Chinese folk music, the Daoist idea of Yin and Yang and paper cuttings.