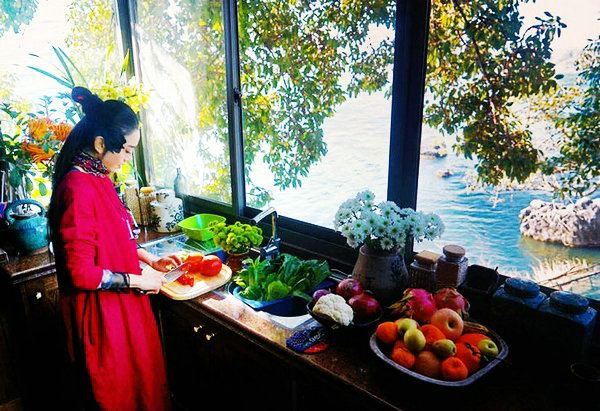 A photo shows Moon Palace, the residence of Yang Liping, in Southwest China's Yunnan province. Yang Liping cooks in her kitchen.[Photo/gmw.cn]
A set of photos showing the residence of Yang Liping, a famous folk dancer in China, has been released. It's the first time the public have been granted such privileged access.
The Moon Palace nestles among the mountains of southwest China's Yunnan province, overlooking the tranquil beauty of the Erhai Lake, providing the villa with an inspiring view.
Yang Liping, famous as a traditional Chinese folk dancer, has dedicated her life to pursuing her art and currently serves as director, choreographer, and star of "Dynamic Yunnan", a piece that has been performed more than 4,000 times in China and internationally.