Ivory burning won't increase price: Kenya wildlife chief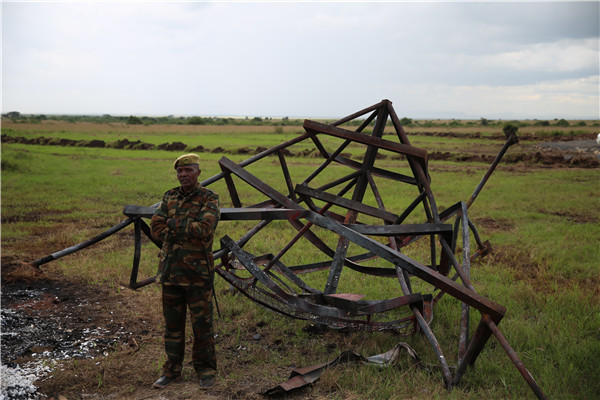 A Kenya Wildlife Service officer is standing in front of an iron frame on which the burned ivory was laid. The frame bent out of shape due to the high temperature. Photo Hou Liqiang/China Daily
Leakey said the burning of the ivory sends two messages to the world: bring the market down and bring public attraction to ivory down, too.
Kenya on April 30 set ablaze 105 tons of ivory and 1.3 tons of rhino horns to send a strong message against poaching and illegal trade in the products.
The burning has almost been finished. The remains will be moved to the formal burning site in Nairobi National Park and the burning site will be restored to its formal condition as part of the park.
Leakey said a monument will be built and some of the remains may be presented to some other states.
It was the fourth time that Kenya has burned ivory. President Daniel Arap Moi in 1989 set ablaze 12 tons while another burning was done last year by President Uhuru Kenyatta. In 2011, President Mwai Kibaki burned 5 tons in Manyani, located inside Tsavo National park, about 321.6 km (200 miles) from the capital city Nairobi.