Ivory burning won't increase price: Kenya wildlife chief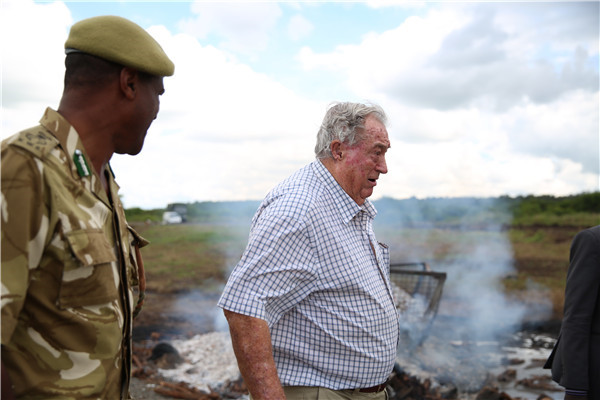 Richard Leakey (right), chairman of the Kenya Wildlife Service Board of Trustees, walks past the rhino horn burning point on Thursday. Photo Hou Liqiang/China Daily
Kenya's burning of 105 metric tons of ivory in April will not push up the price but will decrease the public's attraction to the trophies, said the chairman of the Kenya Wildlife Service Board of Trustees.
Richard Leakey made the comment on Wednesday at the ivory burning site.
He said it's not the first time he has heard experts, conservationists and economists say the burning of ivory will push up the price. "In 1990, when we burned the ivory, we had exactly the same comments probably by the same people," Leakey said.
"They said you are working contrary to economic theory. This will push the price up. And I said I don't believe it will because what we are working on is a market that is sentimental. And I believe if we can shame people about ivory and if we can get the international legislation behind us, the price will come crashing down."
He said the price of ivory collapsed within six months after that burn. "It went from $300 a kilo, which we knew was the price in Kenya, to less than $10 a kilo six months later. And it remains less than $10 for between 15 to 20 years."