Kenya burns ivory worth $150 million
Kenya set ablaze 105 tons of ivory and 1.3 tons of rhino horns on Saturday, in a bid to send a strong message against poaching and illegal trade of these products.
In a single act to reaffirm the nation's stand to save its elephant and rhino population, Kenyan President Uhuru Kenyatta set ablaze pyres of rhino horn and elephant tusks worth an estimated $150 million. His aim to send a clear message to poachers and traders.
He addressed critical voices that call for legalizing the trade and said Kenya will soon be forwarding its proposal to the Convention on International Trade in Endangered Species calling for a complete ban.
"This vice must come to an end and our elephants protected," he said. "I know there are some who say Kenya should put its stockpile into the market and use the proceeds in development. I want to say that we have made our stand that ivory is worthless unless it is on our elephants. Let the future generation judge us," he said amid applause from dignitarities, including Gabon's President Ali Bongo.
Ina letter to Kenyatta, President Xi Jinping said China appreciates Kenya's effort in wildlife conservation and will continue to strengthen communication and cooperation with the international community, including Kenya, for wildlife conservation in Africa. The event took place at the Nairobi National Park, the only natural conservancy in the world located in a city.

This is the fourth time the East African country has burned its stockpile. Despite its consistent anti-poaching stance, the country - and Africa as a whole - continues to lose its elephant and rhino population. Data shows poachers have killed 100,000 elephants in the last 3 years alone with Central Africa bearing the brunt. It has lost 64 percent of its population in decade.
The trade has been nurtured by rampant corruption, porous borders and international cartels that use more sophisticated weapons.
Kenyatta, however, said the fight cannot be won in a day. He called for concerted efforts among countries that have shown a willingness to burn their stockpiles.
"Countries like China and others have shown their clear intentions to combat the vice," he said. They are indeed good stewards of wildlife conservation. For those who are hording, you only fuel speculation and not the survival of elephants."
He said the move to destroy confiscated ivory disrupts the market. "The approach has been tested and proven. Kenya has recorded an 80 percent reduction of poaching in the last three years."
For his part, Bongo, who burned his country's stockpile three years ago, gave a stern warning to poachers and traders noting that Central Africa has seen much of its herds wiped out in the last decade.
"Gabon housed half of the total number of elephants remaining in the region. We have to stop poaching because the vice is feeding insecurity and social unrest on the continent," he said.
Bongo said poaching will evolve into terrorism creating regional and continental instability.
"I want to tell the poachers, traders and users, your days are numbered. We will track you, find you and punish you."
lucymorangi@chinadaily.com.cn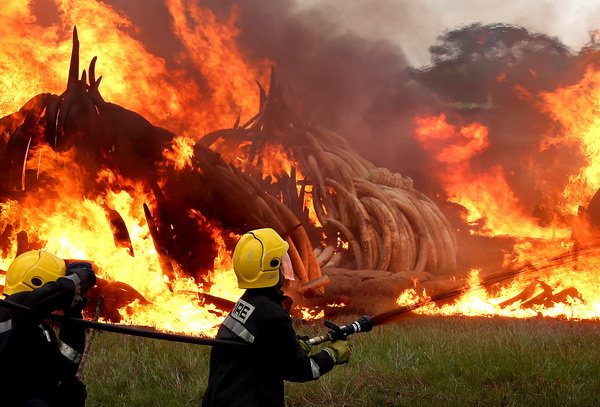 Firefighers spray water to put out fire that spread to a grassy area near a burning pile of ivory on Saturday. By Reuters