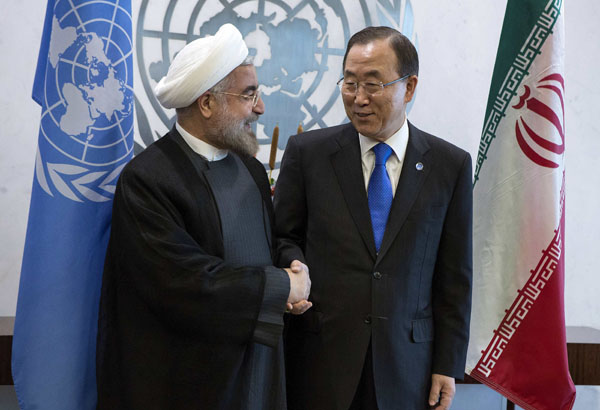 United Nations Secretary-General Ban Ki-moon (R) greets Iran's President Hassan Rohani during the UN General Assembly at UN Headquarters in New York in this file photo taken September 26, 2013. [Photo/Agencies]
VIENNA - Iran has halted its most disputed nuclear activity under a ground-breaking deal with six world powers, a confidential UN atomic agency report obtained by Reuters showed, paving the way for the easing of some Western sanctions against Tehran.
The report by the International Atomic Energy Agency also said Iran had begun diluting its stockpile of uranium enriched to the fissile concentration of 20 percent - a level that took it closer to the capability of producing fuel for an atom bomb.
Iran was also continuing to convert some of this reserve into oxide for producing reactor fuel, the IAEA said, making the material less suitable for any attempt to produce bombs. Iran says its nuclear programme is entirely peaceful.
The IAEA will play a pivotal role in checking Iran lives up to its part of the interim agreement by curbing uranium enrichment in exchange for some relaxation of international sanctions that are severely damaging its oil-dependent economy.
The IAEA report to member states said: "The Agency confirms that, as of 20 January 2014, Iran ... has ceased enriching uranium above 5 percent U-235 at the two cascades at the Pilot Fuel Enrichment Plant (PFEP) and four cascades at the Fordow Fuel Enrichment Plant (FFEP) previously used for this purpose."
It was referring to the Islamic Republic's two enrichment plants, at Natanz and Fordow. Cascades are interlinked networks of centrifuge machines that refine uranium. Iranian state television earlier said Iran had halted 20 percent enrichment at Natanz and that inspectors were heading to Fordow.
Iran has been enriching uranium to 20 percent concentration of the fissile U-235 isotope since early 2010, stoking Western alarm over the nature of its nuclear program.
"The suspension of 20 percent enrichment has started at the Natanz plant and the International Atomic Energy Agency inspectors are going to the Fordow plant," state TV quoted the deputy head of Iran's Atomic Energy Organisation, Behrouz Kamalvandi, as saying.