Non-stop to my hometown
By Lai Li ( China Daily )
Updated: 2013-12-02 07:40:25
With a British Airways plane sporting a panda-themed paintjob landing at Chengdu Shuangliu International Airport on Sept 23, I was invited to witness the celebration for the first direct flight from London to my hometown.
Following Beijing and Shanghai, Chengdu is now the third city on the Chinese mainland to have a non-stop route to London.
Why does Chengdu appeal to London? Several reasons, I reckon.
In recent years, trade between the UK and Chengdu has become much more robust.
Sichuan Chengdu Shuijingfang Group Co has been converted from a joint venture into a wholly foreign-owned enterprise for British company Diageo, a leader in premium alcoholic beverages.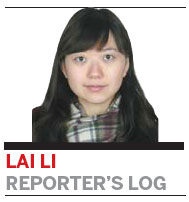 Earlier in this month, VisitBritain - the British tourist authority - staged its biggest campaign to date in Chengdu.
The city now has 70 international flights, the most in Central and Western China.
The inland city with an open attitude welcomes businessmen and investors from all over the world.
Chengdu also impresses foreigners with its alluring, laidback lifestyle. Last year, it received an award as the most beautiful and happiest city in China.
Local people are keen on finding good restaurants no matter how far distant because they really care about the taste.
Apart from Sichuan cuisine, local people usually find relaxation in the teahouses dotting nearly every corner of the city. In many ways, the teahouse is to Chengdu what the pub is to London and the cafe is to Paris.
Traveling and shopping are also favored by Chengdu people. They have relatively high purchasing power compared with other cities in West China and are willing to buy luxury goods. That's why so many internationally famous brands such as LV and Burberry have invested in the city.
Chengdu is now accelerating the restructuring of its economic model. Similar to the UK, creative and high-tech industries are becoming increasingly crucial.
A rising number of IT, new energy and materials, bio-pharmaceutical, aviation and aerospace companies are based in the city. It is also one of the country's model cities in intellectual property creation.
Chengdu is expected to become the financial center of the "Western boom" in China, as its financial services industry becomes highly developed. Standard Chartered Bank and HSBC continue to expand in the city.
Unlike many other Chinese cities whose development mainly relies on few leading enterprises, Chengdu has a range of small and medium-sized enterprises.
Priority policies provided by the government facilitate their development and also bring more opportunities in bilateral cooperation with companies from the UK.
As a Chengdu native, it's time to tell the world that the city has much more than pandas.

Gear change
'Sustainable development', 'decisive role for markets' are the new buzzwords for Chinese economy.