UK schools lead international bid, but challenges remain
By Chen Qide in Shanghai ( China Daily )
Updated: 2013-12-02 07:40:25
With Chinese legislation permitting Sino-foreign joint ventures in education almost a decade old, British universities now have the largest share of the market.
Three pioneering Sino-foreign joint ventures by UK schools - the University of Nottingham Ningbo China, Xi'an Jiaotong Liverpool University at Suzhou and the Sino-British College in Shanghai - now have more than 10,000 students.
"They were and still are in the frontline of helping to internationalize Chinese students studying in English in China in line with the spirit and letter of the 2003 law," said Professor Ian Gow, principal of SBC and founding provost of UNNC in Ningbo.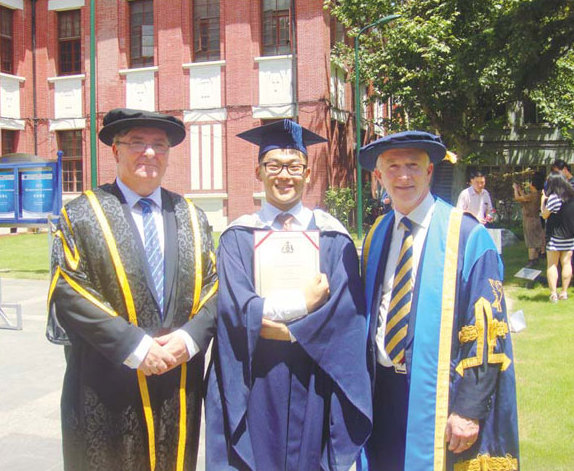 Professor Nigel Weatherill (right), vice-chancellor of Liverpool John Moores University, and Professor Ian Gow (left), principal of the Sino-British College, with Zhou Xinqiao, who completed his bachelor's degree at SBC last year and recently earned a master's degree with distinction at Imperial College London. Provided to China Daily
SBC, with its consortium combining nine member universities of Northern Consortium UK and a Chinese host school, is different from the other two bilateral alliances because it is not a standalone independent joint venture but embedded within its host school, the University of Shanghai for Science & Technology.
"One area where SBC has prioritized and developed rapidly, as have the others, is recruiting international students," Gow said.
He said internationalizing the student body on campus in China clearly needs more than an international syllabus and staff. There also needs to be a sufficient presence of UK universities and international students.
The student body should be a mix of those studying abroad from UK campuses, seconded students from Chinese host universities and full-time students in the school itself, he added.
"But recruiting and integrating international students on a Chinese campus has some problems," Gow said. "In recruiting terms, the joint ventures are now in head-to-head competition with Chinese universities also offering degrees taught in English."
International students have been on UK campuses for over 100 years. They arrived over that time for political, economic and cultural reasons.
Mature internationalized UK campuses have built-in advantages such as mixed accommodations, English as the language for all students, a staff from 60 to 100 countries and students from more than 100 countries.
In contrast, Gow said Sino-foreign joint ventures and Chinese universities are now dealing with increased enrollment targets and increasing numbers on campus over a dramatically shorter period of time.

Gear change
'Sustainable development', 'decisive role for markets' are the new buzzwords for Chinese economy.