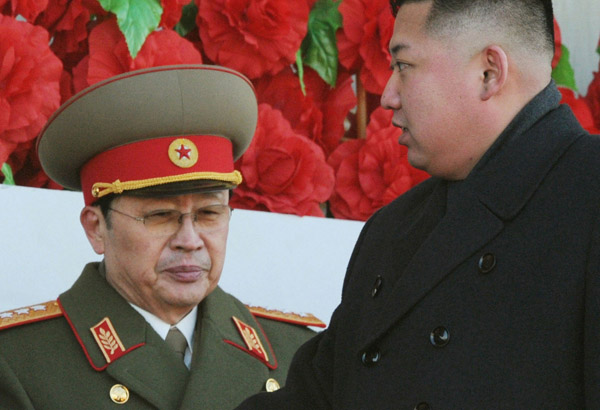 DPRK leader Kim Jong-un (R), walks past his uncle North Korean politician Jang Song-thaek, during a military parade to mark the birth anniversary of the late leader, Kim Jong-il in Pyongyang, in this file photo taken by Kyodo February 16, 2012. [Photo/Agencies]
PYONGYANG - The Democratic People's Republic of Korea (DPRK) announced Monday Jang Song-thaek, uncle-in-law of DPRK leader Kim Jong Un, was removed from all posts and expelled from the Workers' Party of Korea (WPK) for his "anti-Party and counterrevolutionary crime," the official news agency KCNA reported.
The KCNA said the Political Bureau of the Central Committee of the Workers' Party of Korea (WPK) held an enlarged meeting and adopted a decision Sunday of stripping Jang of all posts, depriving him of all titles and expelling him and removing his name from the WPK.
"Jang and his followers committed criminal acts baffling imagination and they did tremendous harm to our party and revolution," the KCNA said in a report following the WPK's enlarged meeting Sunday.
Jang was also described as a double-dealer who abused his power and challenged the "sole leadership system,"  and had gravely hindered the role of the Cabinet by taking control of major economic development sectors, and had allegedly committed irregularities and corruption and "led a dissolute and depraved life," said the resolution from the meeting.
Jang, 67, who was married to Kim's biological aunt, was senior general and vice chairman of the National Defense Commission (NDC), and secretary of administration department of the WPK.
The resolution also accused Jang of desperately working "to form a faction within the party by creating illusion about him and winning those weak in faith and flatterers to his side." It said Jang and his followers  violated the WPK's guiding principles and disobeyed "the order issued by the supreme commander of the Korean People's Army," and "the discovery and purge of the Jang group ... made our party and revolutionary ranks purer ..."
"Our party will never pardon anyone challenging its leadership and infringing upon the interests of the state and people in violation of the principle of the revolution, regardless of his or her position and merits," said the resolution, calling on all the party members and the Korean People's Army to be united under the leadership of Kim Jong Un for "final victory."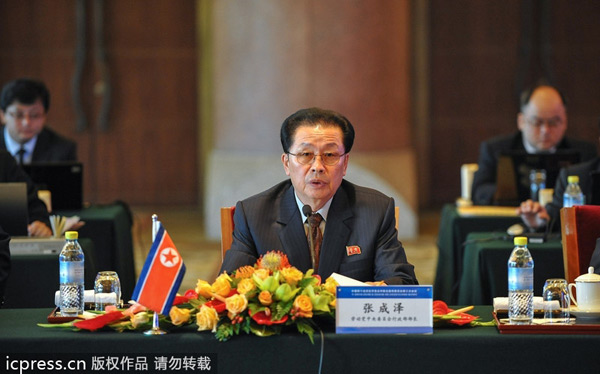 Jang Song-thaek, uncle-in-law of DPRK leader Kim Jong Un.