Turkey could deploy army to quell protests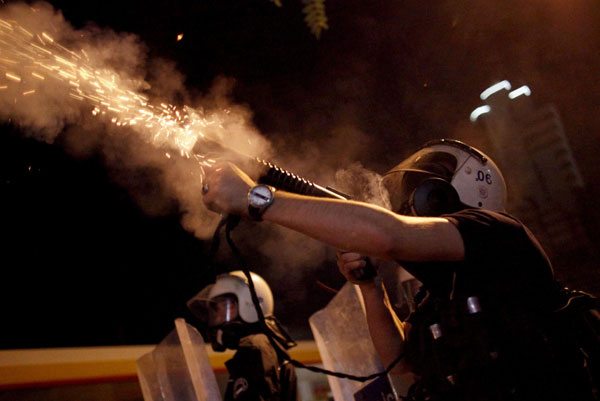 Riot police fires tear gas towards protesters during clashes in Kennedy street in central Ankara June 18, 2013. Turkey's Deputy Prime Minister Bulent Arinc said on Monday the armed forces could be called up if needed to help quell popular protests that have swept Turkish cities in the last two weeks, the first time the possibility of a military role has been raised.[Photo/Agencies]
ANKARA/ISTANBUL - Turkey's deputy prime minister said on Monday the armed forces could be called up if needed to help quell popular protests that have swept Turkish cities in the last two weeks, the first time the possibility of a military role has been raised.
Bulent Arinc made the remarks in Ankara, where 1,000 striking trade union workers faced off briefly against police backed by several water cannon, before police retreated and the crowd left.
In Istanbul, the cradle of protests that have presented Prime Minister Tayyip Erdogan with the greatest public challenge to his 10-year leadership, several hundred union members also marched in sympathy with anti-government demonstrations.
They were prevented from entering Taksim Square, the focal point of the unrest, but after workers had moved off, between 200 and 300 mainly young protesters, some of them throwing stones from slingshots, fought with police.
The violence was minor compared with the weekend, which saw some of the fiercest clashes so far when police fired teargas and water cannon to clear thousands of people from the square.
"Our police, our security forces are doing their jobs. If it's not enough, then the gendarmes will do their jobs. If that's not enough ... we could even use elements of the Turkish Armed Forces," Arinc told Turkey's state-run TRT television.
Any use of the army would be a dramatic step in Turkey, where Erdogan has pushed through democratic reforms including taming a military that toppled four governments in four decades.
There were also clashes on Monday in the city of Eskisehir, around 200 km (120 miles) southeast of Istanbul, where police used teargas and water cannon to disperse crowds and cleared away hundreds of tents, the Dogan news agency reported.
Monday's union marches were peaceful and small, and, while it was unclear how many of the 850,000 public workers answered union calls to strike, there were no signs of major disruption.
What began late in May as a protest by environmentalists upset at government plans to build on a public park adjoining Taksim has grown into a movement against Erdogan, who opponents say is overbearing and meddles in their personal lives.
OPPOSITION SUPPORT RISES
The unrest has yet to seriously threaten Erdogan's position.
A new poll showed that 35.3 percent of people would vote for for his AK Party were an election to be held straight away, compared with 36.3 percent in April.
In the first survey published since protests started, opposition groups also gained in popularity, most notably the CHP whose support jumped to 22.7 percent in June from 15.3 percent two months ago.
European Union enlargement commissioner Stefan Fuele expressed concern about developments in Turkey, whose negotiations to join the bloc have stalled, partly over worries about its record on human rights and freedom of speech.
Germany has long harboured doubts about admitting Turkey to the EU. Chancellor Angela Merkel said she was "appalled, like many others" at Turkey's tough response to the protests.
"I would like to see those who ... have a different opinion and a different idea of society having some space in a Turkey that moves into the 21st century," she told the German broadcaster RTL.
"What's happening in Turkey at the moment is not in line with our idea of the freedom to demonstrate or freedom of speech."
Erdogan sought to seize back the initiative over the weekend by holding huge rallies in Istanbul and Ankara. Hundreds of thousands turned up to see a leader who has won three successive elections, and whom they considered unfairly under siege.
The blunt-talking 59-year-old said the rallies were to kick off campaigning for local elections next year and not related to the unrest, but they were widely seen as a show of strength.
A defiant Erdogan told a sea of flag-waving supporters in Istanbul on Sunday that the disturbances had been manipulated by "terrorists" and dismissed suggestions that he was behaving like a dictator, a constant refrain from protesters on the streets.
Just a few kilometres away, police fought running battles with protesters in clashes that lasted well into the evening.
The stark contrast between events in different parts of Istanbul highlighted how the protests have polarised Turkey, its conservative religious heartland largely backing Erdogan while Western-facing liberals swell the ranks of the protesters.