Turkey releases 33 protest supporters by Tweeting
ANKARA - Thirty-three suspects who had been detained for spreading false information and provoking protests on Twitter were released on Thursday, Turkish Today's Zaman reported.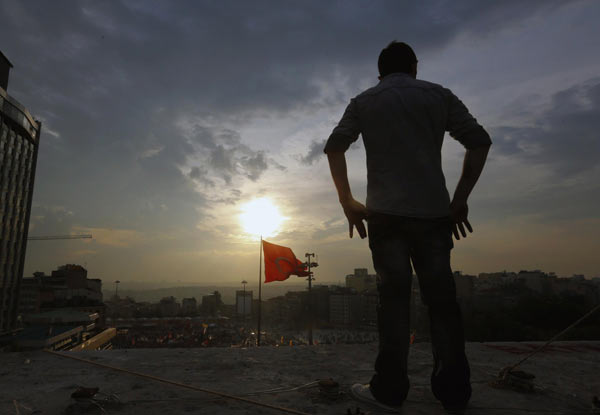 An anti-government protester looks at Istanbul's Taksim square June 5, 2013.[Photo/Agencies]
Earlier on Tuesday and Wednesday, Izmir police detained 34 people, who were reported to fake up the story that the police shot at protesters and tank crushed protesters.
The prosecutor's office released the 33 detainees after questioned by the police, the other suspect was sent to court. The police are also searching for four others over the same charges.
The protests started as a reaction against the demolition of Taksim's Gezi Park and later turned into clashes between police forces and thousands of protesters across the country.
The anti-government protests have spread to 67 provinces, including the capital city of Ankara and coastal cities of Antalya and Izmir.
The clashes led to more than 4,000 injured and thousands detained.