173 injured in protests across Turkey
ISTANBUL - A total of 173 people were injured in clashes between protesters and policemen in the nationwide protests in the past week, according to Turkish authorities on Monday.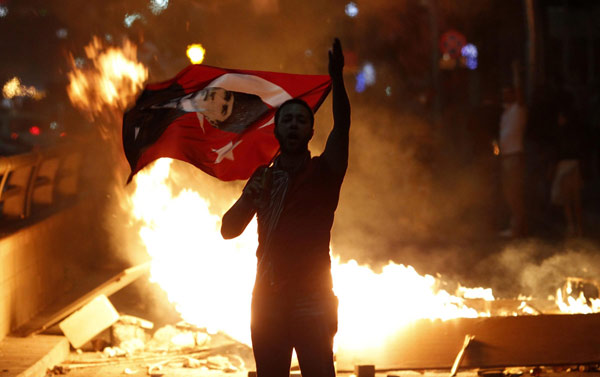 An anti-government protester holds a Turkish national flag with a portrait of Mustafa Kemal Ataturk, founder of modern Turkey, on it during a demonstration in Ankara late June 2, 2013. [Photo/Agencies]
Turkish Interior Minister Muammer Guler said that 115 police officers and 58 protesters were injured in the anti-government demonstrations which were staged last week by a group of protesters in Istanbul Taksim's Gezi Park to stand guard against the uprooting of trees.
He stated that four people in Istanbul and two others in Ankara are reportedly in intensive care.
The minister said that 235 demonstrations have been held so far in 67 provinces across the country, 730 people detained in connection with the protests.
The protests, which started peacefully at Istanbul's Gezi Park, began to turn violent by Thursday night.
The group was protesting a project to rebuild a historic barrack that at one point stood on the site of Gezi Park, saying the nearly century-old trees in the park should be protected.
The crowd was dispersed by riot police who arrived on the scene early on Friday with riot control vehicles and pepper spray.
The demonstrations that later gripped other Turkish cities as well continued in the weekend and into the early hours of Monday with some protesters setting fire to offices of the ruling Justice and Development Party.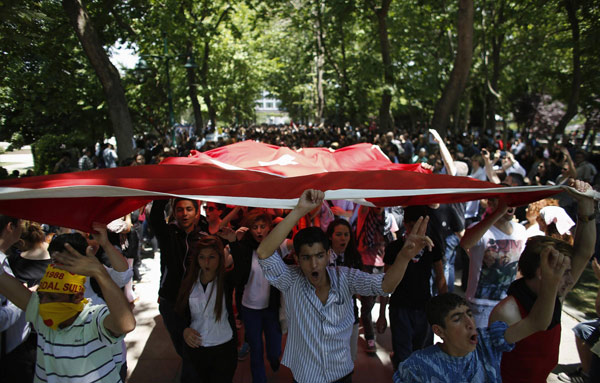 Protesters carry the Turkish flag and shout anti-government slogans during a demonstration at Gezi Park near Taksim Square in central Istanbul June 3, 2013. [Photo/Agencies]