Fire at London's Camden Market put under control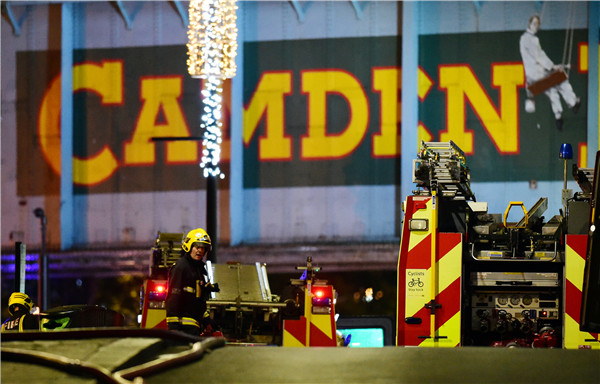 A firefighter walks at the scene of a fire at Camden Market in north London, Britain, July 10, 2017. [Photo/Agencies]
LONDON - A fire at London's Camden Market was put under control about two hours after police received the first call reporting the blaze, the London Fire Brigade said Monday.
"The fire is now under control but crews will be damping down into the morning," the brigade said in its latest twitter message, posted at 0220 GMT.
The fire, which started at around mid-night, did not cause any casualties, according to updated information by local ambulance service.
The first, second and third floors as well as the roof of a building were on fire, and more than 70 firefighters and 10 fire engines were on the scene, the brigade tweeted earlier.
The cause of the fire is still unknown.
Camden Market is a popular tourist destination in the city's north.There are more than 1,000 shops and stalls in the open-air market. It was hit by a major fire in February 2008, which forced a large part of the market closed for business for several months.
Monday's fire occurred only weeks after a massive fire engulfed a 27-story apartment building, which burned for more than 16 hours and killed at least 80 people.
It is believed that substandard cladding materials used in the renovation of the tower bloc contributed to the rapid spread of the flames and made the June 14 fire so deadly.