Turkey police storm protest square in new clashes
Riot police stormed Istanbul's protest square on Tuesday, firing tear gas and rubber bullets at firework-hurling demonstrators in a fresh escalation of unrest after Turkish Prime Minister Recep Tayyip Erdogan said he would meet protest leaders.
Hundreds of police poured into Taksim Square, the epicenter of nearly two weeks of anti-government demos, warning demonstrators to stay away as bulldozers began clearing the makeshift barriers erected by protesters after police pulled out of the area on June 1.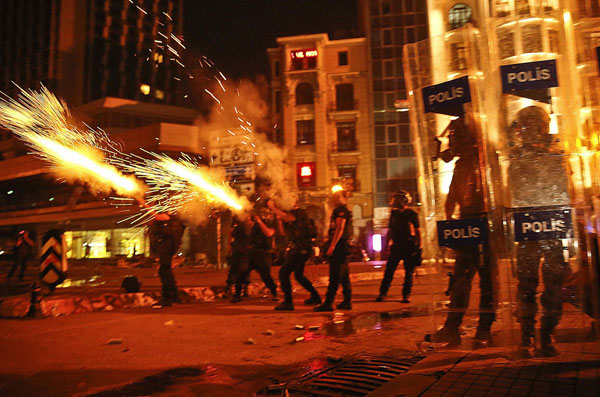 Riot police fire tear gas canisters at protesters in Istanbul's Taksim square, June 11, 2013. [Photo/Agencies]
The police's return to the square in armored cars raised the stakes in the nationwide unrest that has posed the fiercest challenge yet to Erdogan and his Islamic-rooted government's decade-long rule.
Smoke filled the area as police doused protesters with tear gas, urging them to return to adjoining Gezi Park, with some protesters, in helmets and gas masks, throwing molotov cocktails, fireworks and stones in response. Passers-by on their way to work hurried to get out of the way, many coughing and wiping their eyes.
The intervention came just hours after Deputy Prime Minister Bulent Arinc said Erdogan would meet protest leaders on Wednesday, in his first major concession since the trouble began 12 days ago.
But in a sign of the action to come, he warned: "Illegal demonstrations will not be allowed anymore in Turkey."
"Can you believe that? They attack Taksim, gas us in the morning just after proposing talks with us? What kind of leader is that?" said Yulmiz, 23, after waking up to the clashes in his tent in Gezi Park.
"We won't abandon Gezi. They can send thousands of policemen, he vowed. "I am not afraid of their water cannon. It'll be my first shower in three days."
The police clampdown on Taksim Square came on the 12th day of nationwide protests that were sparked by a violent police crackdown May 31 on a peaceful sit-in at a park in the square by people who were trying to prevent a redevelopment project that would replace the green space with a replica Ottoman Barracks.
The protests grew into wider demonstrations against what many see as Erdogan's increasingly authoritarian style of governing and his perceived attempts to impose a religious and conservative lifestyle in the country which has secular laws. Erdogan, a devout Muslim, says he is committed to Turkey's secular laws and denies charges of autocracy.
Erdogan has escalated tensions by vowing to press ahead with the Taksim redevelopment plans, dismissing the protesters as fringe extremists and the protests as undemocratic plots to topple his government, which was elected with 50 percent support.
Nearly 5,000 demonstrators, scores of whom are young and middle-class, have been injured and three people have died, raising concerns among Turkey's Western partners about its democratic credentials.
AFP-AP