Turkish police use tear gas to disperse demonstrators
ANKARA - Turkish police on Sunday used tear gas to disperse demonstrators in Ankara as nationwide protests against the pro-Islamic government led by Prime Minister Recep Tayyip Erdogan moved on.
Thousands of protesters gathered at Kizilay Square in the capital to support the events in Istanbul's Taksim Square, but the police intervened with tear gas and water cannons to disperse the crowd, said witnesses.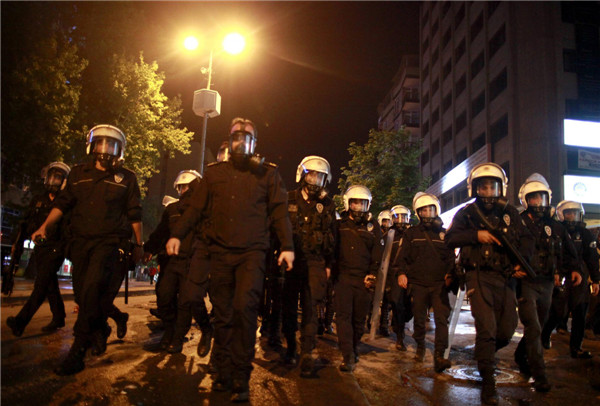 Riot policemen chase protesters at Kizilay Square in central Ankara, June 9, 2013. [Photo/Agencies]
Some citizens in Istanbul have recently joined protests against the demolition of Taksim's Gezi Park, which later turned into clashes between protesters and the police across the country. Some vandals and members of extremists groups also mixed themselves into the peaceful demonstrators.
On Sunday, Erdogan called on his supporters to prepare for pro-government rallies next weekend in Istanbul and Ankara. "On Saturday, we are ready for a big meeting in Ankara and on Sunday, for another big meeting in Istanbul," he said.
Erdogan, who has already been criticized for his "authoritarian " stance toward protesters, said Sunday that his patience with the demonstrations "has a limit."
The nationwide anti-government protests across Turkey have left at least three people killed, nearly 5,000 injured and thousands detained.
On Wednesday, organizers of the protests said they would continue their "struggle" until their demands are met by the government through tangible steps.