Turkish deputy PM seeks to calm protests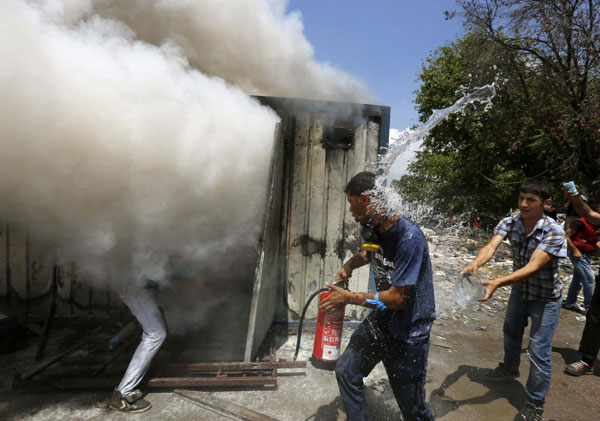 Anti-government protesters try to extinguish a burning container in Istanbul's Taksim square June 4, 2013. It was not clear why the container was on fire. Pockets of protesters clashed with Turkish riot police overnight and a union federation began a two-day strike on Tuesday as anti-government demonstrations in which two people have died stretched into a fifth day.[Photo/Agencies]
Turkey's deputy prime minister sought to mollify tens of thousands of anti-government demonstrators on Tuesday by apologizing for a police crackdown on a peaceful protest that triggered five days of rioting across the country.
The comments by Bulent Arinc, who took charge of government after Prime Minister Tayyip Erdogan left on a visit to North Africa on Monday, contrasted with Erdogan's dismissal of the protesters as "looters".
"The excessive violence that was used in the first instance against those who were behaving with respect for the environment is wrong and unfair. I apologize to those citizens," Arinc told a news conference in the capital Ankara.
"But I don't think we owe an apology to those who have caused damage in the streets and tried to prevent people's freedom," he said.
Arinc also said he would meet some of the organizers of the original Istanbul protest.
But the violence showed no signs of abating in the early hours of Tuesday, with thousands of protesters gathered on Taksim Square, the heart of the demonstrations, as white fumes hung in the air in surrounding streets.
Shops were shuttered on a main avenue leading to the square as thousands of demonstrators chanting anti-government slogans marched by. Barricades of rubble blocked other streets leading to the square and the acrid smell of tear gas hung in the air.
"Tayyip, resign!" they yelled, waving red flags and banners and whistling.
Rights groups and doctors said more than 1,000 people had been wounded in Istanbul and 700 in Ankara. The government had previously put the figure at 58 civilians and 115 security personnel injured, but has not given an updated estimate since Sunday, when it said 1,700 people had been arrested and many since released.
Overnight, riot police in Istanbul and Ankara fired tear gas and water cannon at protesters who set cars ablaze, hurled stones and bellowed angry slogans in a fifth day of demonstrations that have killed two people.
The violence first erupted after police cracked down on a peaceful rally in Istanbul against plans to build over Gezi Park, a rare green spot adjoining the city's main Taksim Square, but quickly mushroomed into broader protests in dozens of other cities by Turks who accuse the government of pushing conservative Islamic reforms.