Khaltmaa Battulga inaugurated as Mongolian president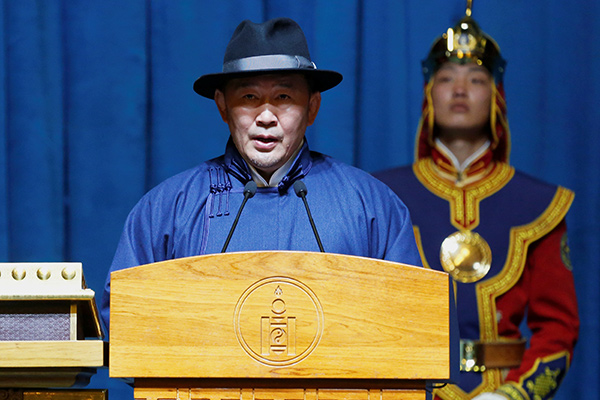 New Mongolia's president Khaltmaa Battulga speaks during his inauguration ceremony in Ulaanbaatar, Mongolia, July 10, 2017. [Photo/Agencies]
ULAN BATOR - Khaltmaa Battulga of the Mongolian Democratic Party was officially inaugurated as president of the country on Monday.
The inauguration, held at the State Palace, was attended by Prime Minister Jargaltulga Erdenebat, Chairman of the Constitutional Court Jugnee Amarsanaa, parliament and government members, among others.
Taking the oath, Battulga pledged to respect and protect the rights and freedom of Mongolian citizens, "observe and protect the Constitution of Mongolia, protect sovereignty and independence, security and integrity of the state, and truly serve the people."
Aiming at reducing poverty, Battulga said he will restore the economy, develop the industrial sphere and ensure ecological balance.
The new president said he will also "expand friendly relations with China and Russia in all spheres" before receiving the seal from outgoing President Tsakhiagiin Elbegdorj.
The inauguration came three days after the General Election Commission announced that Battulga won the election Friday against Miyegombo Enkhbold of the Mongolian People's Party, with 50.6 percent of the vote in the runoff.
The Mongolian president serves a four-year term and can be re-elected only once.