Israel launches strikes near Damascus city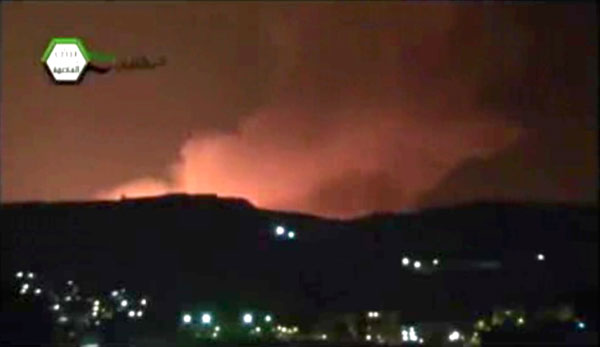 In this image taken from video obtained from the Ugarit News, which has been authenticated based on its contents and other AP reporting, smoke and fire fill the skyline over Damascus, Syria, early on Sunday, after an Israeli airstrike. [Photo/Agencies]
Israeli strikes hit a military target outside Damascus on Sunday, the Jewish state's second reported raid on Syria in three days, with residents saying the attack felt like an earthquake and turned the sky red.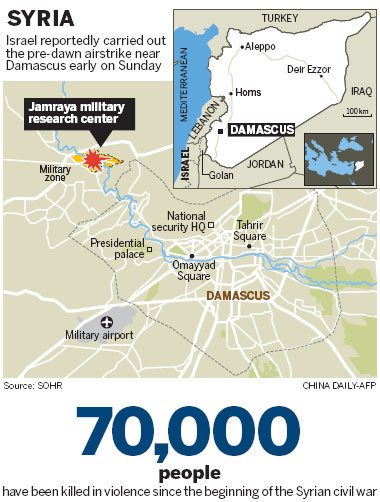 A senior Israeli source said the aerial assault took out Iranian weapons destined for the Lebanese militant group Hezbollah, which is allied to the Syrian government.
And a diplomatic source in Beirut told AFP three sites were targeted, including a military facility, a nearby weapons depot and an anti-aircraft unit in Sabura, west of Syria's capital.
The official SANA News Agency said Israel had targeted the military research center at Jamraya in the Eastern Ghouta region, without giving details on casualties or damage.
"This new Israeli aggression is a clear attempt to alleviate the pressure on the armed terrorist groups after our army beat them back in several regions and after the army's victories on the road to recovering security and stability in Syria," SANA said.
The Israeli source, who spoke on condition of anonymity, said the target of the attack "was Iranian missiles which were destined for Hezbollah".
He also confirmed the Jewish state was behind an attack overnight on Thursday, which sources told AFP targeted a weapons storage facility at Damascus airport.
Keep Israel secure
Prime Minister Benjamin Netanyahu made no mention at a public appearance on Sunday of Israeli airstrikes on Syria in recent days but spoke pointedly about a commitment to keeping Israel secure.
"(My father) taught me that the greatest responsibility we have is to ensure Israel's security and guarantee its future," he said, dedicating a highway interchange named after his late father, Benzion Netanyahu, a historian who died a year ago.
The ceremony marked the first time Netanyahu has spoken in public since an Israeli official said on Saturday that Israel had carried out an airstrike on Friday against missiles in Syria intended for the Lebanese militant group Hezbollah.
AFP-Reuters