Iraq attacks kill 55 less than a week
Two more car bombs exploded in a rare attack in a parking lot near the heavily guarded entrances to Baghdad International Airport. Three people were killed, including a bodyguard of a Shiite lawmaker whose convoy was passing by. The lawmaker escaped unharmed.
"This attack and other attacks that took place today were part of the continuous efforts by al-Qaida terrorists to shake the security and political situation ahead of the upcoming elections," said Diaa al-Asadi, a political ally of the lawmaker who was traveling in the convoy.
Around sunset, a parked car bomb exploded near car dealerships in the eastern Habibiya neighborhood, killing ten. Other blasts struck the capital's Kamila, Karrada, Shurta, Baladiyat and Umm al-Maalif neighborhoods.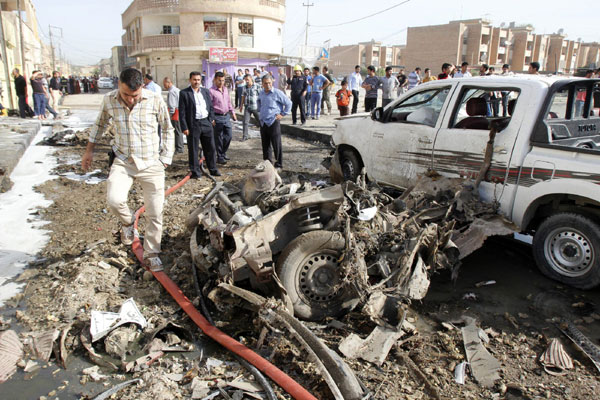 Iraqi security personnel are seen at the site of a bomb attack in Kirkuk, 250 km north of Baghdad, April 15, 2013. [Photo/Agencies]
In and around the ethnically-mixed northern city of Kirkuk, three parked car bombs went off downtown simultaneously - one in an Arab district, one in a Kurdish one, and one in a Turkomen district- killing four. Three other car bombs exploded outside the city, killing another five.
Kirkuk, about 290 kilometers from Baghdad, is home to a mix of ethnic groups with competing claims to the oil-rich region.
The day's mayhem began around 6:30 a.m. in the former insurgent stronghold of Fallujah when a suicide bomber drove an explosives-packed car into a police checkpoint, killing two policemen and wounding six others.
Later in the day, two bodyguards assigned to a spokesman for anti-government protests that have raged for months were killed when a bomb attached to their car exploded on the highway between Ramadi and Fallujah. A similar bomb stuck to another car in the area killed two others.
Another 15 people were killed and dozens were wounded in attacks in Baqouba, Buhriz, Khalis, Mosul, Mussayab, Nasiriyah, Rutba, Tarmiyah and Tikrit.
Local police officials provided details of the attacks, and hospital officials confirmed the casualty tolls. The officials spoke on condition of anonymity because they weren't authorized to release details to reporters.
Although violence in Iraq has fallen from its peak in 2006 and 2007, bombings and other attacks remain common.
The blasts struck a day after a series of attacks left 10 people dead, including a Sunni candidate running in the upcoming provincial elections.
The vote on Saturday will be the country's first since US troops withdrew in December 2011. The election, for local-level officials, will be a test of the strength of Prime Minister Nouri al-Maliki's political bloc as well as the ability of security forces to keep the country safe.
Monday's violence marked Iraq's deadliest day since March 19, the eve of the 10th anniversary of the US-led invasion, when a wave of bombings killed 65 across the country.