Iraq attacks kill 55 less than a week
BAGHDAD - Insurgents in Iraq deployed a series of car bombs as part of highly coordinated attacks that cut across a wide swath of the country Monday, killing at least 55 on the deadliest day in nearly a month.
The assault bore the hallmarks of a resurgent al-Qaida in Iraq and appeared aimed at sowing fear days before the first elections since US troops withdrew. There was no immediate claim of responsibility, but coordinated attacks are a favorite tactic of al-Qaida's Iraq branch.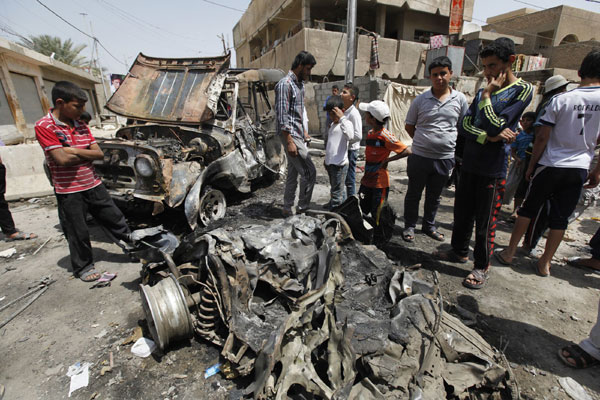 Residents gather at the site of a car bomb attack in the Kamaliya district in Baghdad April 15, 2013. [Photo/Agencies] 
Iraqi officials believe the insurgent group is growing stronger and increasingly coordinating with allies fighting to topple Syrian President Bashar Assad across the border. They say rising lawlessness on the Syria-Iraq frontier and cross-border cooperation with a Syrian group, the Nusra Front, has improved the militants' supply of weapons and foreign fighters.
The intensifying violence, some of it related to the provincial elections scheduled for Saturday, is worrying for Iraqi officials and Baghdad-based diplomats alike. At least 14 candidates have been killed in recent weeks, including one slain in an apparent ambush Sunday.
"Of course we are concerned about the violence in the country that has been increasing in the last weeks," United Nations envoy Martin Kobler told The Associated Press. He condemned the bloodshed and urged Iraqi officials to push ahead with the elections.
"They should be free and fair, and every voter should go to the polls free of intimidation and fear," he said.
Iraqi Army Maj. Gen. Hassan al-Baydhani, the No. 2 official at Baghdad's military command, said authorities managed to defuse three car bombs in Baghdad before they could go off.
He described the violence as an attempt to derail the elections and intimidate voters.
"The terrorists want to grab headlines as we approach election day," he said.
Monday's attacks - most of them car bombings - were unusually broad in scope. Among the places where attacks erupted were the Sunni-dominated western Anbar province and Saddam Hussein's hometown of Tikrit, the ethnically contested oil-rich city of Kirkuk and towns in the predominantly Shiite south.
The deadliest attacks hit Baghdad, where multiple car bombs and other explosions killed 25 people.
In one attack, a parked car bomb exploded at a bus station in the eastern suburbs of Kamaliya, killing four and wounding 13. Qassim Saad, a teacher in a nearby school, said his pupils began screaming as the explosion shattered windows.
He described a chaotic scene where security forces opened fire into the air upon arrival to disperse onlookers as overturned vegetable carts sat stained with blood amid wrecked storefronts.
Saad blamed politicians and security forces for lapses that led to the attacks, saying that elected officials "are doing nothing to help the people and are only looking out for their benefits."