Boston police: No one in custody in race blasts
BOSTON - Two bombs exploded in the packed streets near the finish line of the Boston Marathon on Monday, killing two people and injuring more than 70 others in a terrifying scene of shattered glass, billowing smoke, bloodstained pavement and severed limbs at the world's oldest and most prestigious marathon, authorities said.
A senior US intelligence official said two other explosive devices were found near the end of the 26.2-mile (42-kilometer) course.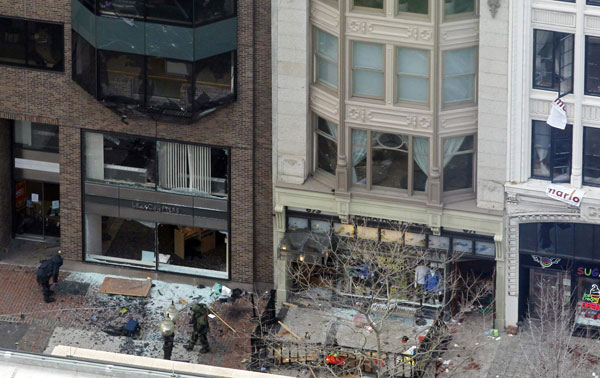 Men in bomb-disposal suits investigate the site of an explosion which went off on Boylston Street during the 117th Boston Marathon in Boston, Massachusetts April 15, 2013. [Photo/Agencies]
"They just started bringing people in with no limbs," said runner Tim Davey, of Virginia. He said he and his wife, Lisa, tried to keep their children's eyes shielded from the gruesome scene inside a medical tent that had been set up to care for fatigued runners, but "they saw a lot."
There was no word on the motive or who may have launched the attack, and police said no suspect was in custody. Authorities in Washington said there was no immediate claim of responsibility.
The twin blasts at the race took place almost simultaneously and about 100 yards (meters) apart, tearing limbs off numerous people, knocking spectators and at least one runner off their feet, shattering windows and sending smoke rising over the street.
Some 23,000 runners took part in the race, which winds up in the heart of central Boston near Copley Square, near the Prudential Tower and the Boston Public Library.
Boston Police Commissioner Edward Davis asked people to stay indoors or go back to their hotel rooms and avoid crowds as bomb squads methodically checked parcels and bags left along the race route. He said investigators didn't know whether the bombs were planted in mailboxes or trash cans.
He said authorities had received "no specific intelligence that anything was going to happen" at the race.
The Federal Aviation Administration barred low-flying aircraft from within 3.5 miles (5.6 kilometers) of the site.
President Barack Obama was briefed on the explosions by Homeland Security adviser Lisa Monaco. Obama also told Mayor Tom Menino and Gov. Deval Patrick that his administration would provide whatever support was needed, the White House said.
Related readings: