Live Report: Texas & Boston blasts
Welcome to our continuing coverage of the tragic events in Boston in the US. We will also keep you updated on the developing events in West, Texas where a blast at a fertilizer factory has killed many people.
April 19
13:55
Massive police operation underway after a police officer was shot on the MIT university campus in Boston, CNN reports. One suspect is in custody after reports of gunfire and explosions and a car jacking. The news comes just hours after police released images of two men sought in connection with the marathon bombing. It has not been confirmed the events are connected.
13:55
Massive police operation underway after a police officer was shot on the MIT university campus in Boston, CNN reports. One suspect is in custody after reports of gunfire and explosions and a car jacking. The news comes just hours after police released images of two men sought in connection with the marathon bombing. It has not been confirmed the events are connected.
21:48
One of the youngest victims of the Boston Marathon bombings is improving and no longer in critical condition.
Dr. Peter Burke, chief of trauma surgery at Boston Medical Center, told WCVB Thursday the 5-year-old boy is getting better and "is going to be OK."
20:54
Chinese cellist Yo Yo Ma will play at the service in front of Obama at the cathedral. He said he's here because he feels like he's a citizen of Boston, WCVB reports.
20:37
US President Obama and the first lady are scheduled to arrive in Boston for an interfaith memorial service at 11pm Beijing time., as the hunt for the person responsible for Monday's attack continues, Daily Beast reports. Thursday's service comes on the heels of a "shameful day for Washington," as the president put it, after Senate Republicans filibustered a majority of his gun-control proposals.
20:04
The Boston Globe reports officials have clear video images of 2 separate Marathon bombing suspects and will release those images today
20:00
The President & First Lady will be in Boston shortly for a service at the Cathedral of the Holy Cross to honor marathon victims, Emily Riemer of WCVB reports.
12:15

Two men seen in images, shown to the media but not released to publish, near the finish line of Monday's Boston Marathon are of "high interest" and are considered "possible suspects," a law enforcement official told CNN.
11:25

It is worth noting that this week is the 20th anniversary of the end of the deadly siege in Waco and the Oklahoma City bombing which occurred on April 19, the anniversary of the Battles of Lexington and Concord.


10:50

In typical Boston fashion, the Bruins held an emotional pregame ceremony to honor the victims of Monday's marathon bombings, ESPN reports. Once the Bruins took to the ice, the 17,565 fans in attendance gave the city's hockey team a standing ovation. TD Garden became silent as a "Boston Strong"-themed video played on the video board, accompanied by the song "Home" by Phillip Phillips, honoring the Phillip Phillips, honoring the first responders with a montage of pictures. The video concluded with a written message: "We are Boston. We are Strong. Boston strong."

09:52

Terrorism Expert Steve Emerson claimed on Fox News that a Saudi national injured in the Boston bomb "will be deported on Tuesday on National Security grounds". Some news organizations reported yesterday that he was being "detained" by police.

09:33

Former CIA operator Robert Baer, who when first pressed 24-hours ago said it looked like a domestic attack, says his sources in the Middle East say the Boston blasts have all the hallmarks of an Al Qaida attack in revenge for drone strikes, CNN reports.

09:24

The Detroit Free Press apologized online to readers Wednesday after publishing a graphic detailing how to make a pressure cooker bomb -- the same kind of device that news that may have been used during Monday's explosions at the Boston Marathon that killed three and injured more than 170.

09:22

Massachusetts Governor Deval Patrick speaking on Piers Morgan Live on CNN says the police have been inundated with responses to a request for videos and photos from the marathon and it will take time to go through them.

09:10

Sixty-three people remain in six Boston hospitals as a result of injuries sustained during the Boston Marathon attack, ABC News reports. Of those, 12 are in critical condition.

08: 47

Police are looking for a man seen wearing a white baseball cap backwards and a light-colored hooded sweatshirt near Lord & Taylor department store before the blast, CNN reports.

08:26

A screen grab of a video believed to show a suspicious package on the sidewalk before the blast.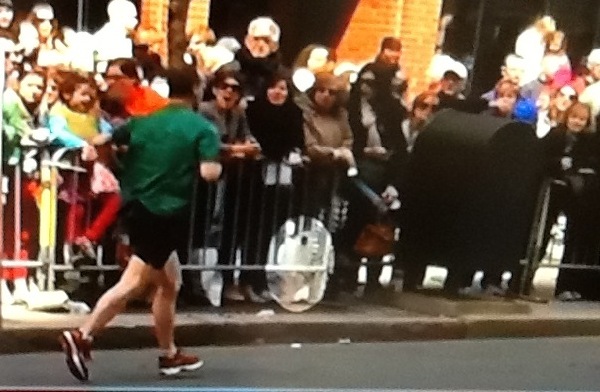 A screen grab of a video believed to show the 2nd suspicious package on the sidewalk before the 2nd blast. this is a new shot of 2nd one.
08:15
Bomb suspect spotted on video Investigators believe they have identified a Boston Marathon bombing suspect from security video taken before two blasts ripped through the city on Monday.

07:50

Meanwhile, a suspect has been arrested in Tupelo, Mississippi over the ricin poison letters sent to senators and the White House, CNN and NBC reports.
07:45

Good morning and welcome to our continuing coverage of the tragic events in Boston in the US. The killer or killers remain free despite CNN incorrectly reporting an arrest was made last night. A number of news organizations now claim an arrest is "imminent" after an image of the suspect was reportedly seized by investigators.
The FBI cancelled a news conference which was delayed several times in the last few hours. President Obama and his wife Michelle will visit the scene of the blast on Thursday. We will bring you the latest developments as-it-happens.


03:05
Investigators in Washington and Boston denied Wednesday that an arrest had been made in the bombing of the Boston Marathon, according to CNN. They had earlier said there was "substantial" progress in the case.

01:55
A suspect has been arrested over the Boston bombing based on two different images of the person at the blast site, according to CNN.
01:44
An arrest for the marathon bombing is imminent, according to AP citing law enforcement officials.
01:43
Lu's former high school teacher, Yang Yongkun, told the Shenyang Evening News that Lu had left a deep impression on him.
"This child is particularly smart and simple," Yang told the newspaper.
According to Lu's profile on LinkedIn, she was awarded "excellent student" at the Beijing Institute of Technology, where she graduated last year.
01:33
Boston University has confirmed the 3rd victim of the bomb attacks is Lu Lingzi from the northeastern Chinese city of Shenyang.
Chinese and US authorities did not release a name in accordance with the wishes of the victim's parents. However, friends identified the victim as Lu and she has now been named in media on both sides of the Pacific.
00:52
In the White House briefing, Jay Carney refused to deny or confirm a connection between the ricin letters and the Boston bombs.
00:46
Senator Richard Shelby's office on Capitol Hill is in lockdown with a haz-mat team in attendance "after a man delivered a letter against protocol". One report suggests Capitol Hill police are holding a suspect. Senator Levin's office in Michigan is also reporting a suspicious package.
00:40
Capitol Hill Police in Washington say two Senate office buildings have been evacuated as they investigate two suspicious packages.
00:31
Asked about police tape around the White House, Carney suggested it was part of the improved security by the Secret Service.
00:25
On the Boston bombing, Carney says the president has said we will find out who did this and why. He said the president held a national security briefing this morning and will visit Boston tomorrow where he will be joined by his wife.
In response to a question on a connection between the letters and the Boston bombing, Carney has told reporters to contact the FBI.
00:23
White House spokesman Jay Carney said at his daily news briefing to journalists that a letter to the president tested positive for a suspicious substance. The president was briefed on the letters last night and today.
00:16
The 2nd letter addressed to the White House tested positive for ricin. A machine in the off-site mail sorting center has also tested positive for the deadly poison, CNN reports.

April 17
23:43
Fox News has confirmed the letter sent to Obama tested positive for the deadly poison ricin. The White House will hold a news conference at 11:45 pm Beijing time.
23:19
A suspicious letter addressed to President Barack Obama has been detected containing a substance, CNN reports. This is the 2nd suspicious letter in 24-hours since the Boston bombing. The first addressed to a senator contained the poison ricin. Police say they do not believe there is a connection to the bomb.
Police added the letter sent to Obama looked "very similar" to a poison letter sent to Senator Wicker on Tuesday.
20:57
Dr. Peter Burke, Chief Trauma Surgeon at Boston Medical Center is giving a news conference, he said they have treated 19 patients (6 males, 13 females). A 5 year-old boy and 60 year old man remain in a critical condition.Seven are listed as serious and the rest fair condition.
"I expect them all to get better, but I won't be happy until they are all home."
11:38

Moment of silence held before the Yankees game with Boston Red Sox in honor of the blast victims, CNN reports.

11:24

The local Fox affiliate station WHDH in Boston has handed a video to FBI investigators of a man fleeing the Boston bomb scene "in a suspicious manner" moments after the blast.




10:46


The FBI says it has already received over 2,000 tip-offs and has asked the public to continue to provide photos and video from the scene. Meanwhile, US Homeland Security secretary Janet Napolitano said there was no indication that the bomb blasts were part of a broader plot.
10:41

Rudy Giuliani who was mayor of New York on Sept, 11, 2001, told CNN "I think we have been fortunate that we have not had a lot more of these. We expected a lot more of this after Madrid (bombing) in Spain. We almost cancelled the marathon in 2001 and the millennium celebrations due to terrorism and you just say a little prayer. These are terrible when they happen. Terrorism spreads sporadically and creates a fear. These people in Boston are pretty damn tough."
09:46

Former CIA operative Robert Baer tells Piers Morgan on CNN: "I have made these devices and they are not easy to do and someone made two of these and they went off. In 1980s the CIA trained the Afghans to use pressure cookers as bombs. It is also available on the Internet. Forced to make a vote I would say domestic. But there is no playbook for Al Qaeda."
Another expert noted the date is significant as it is connected to the start of the revolutionary war and a known date in the white supremacy as well as a connection to Waco.

09:07

In Time Magazine, Michael Crowley writes about warnings about pressure cooker bombs issued by the Department of Homeland Security back in 2004. The alert issued to federal and state security officials: "A technique commonly taught in Afghan terrorist training camps is the use/conversion of pressure cookers into IEDs," the bulletin warned.

09:00

The Boston Police Dept tweeted: To all who've offered words of strength, encouragement & support, we @ the BPD humbly say, "We hear you. We thank you. God Bless you all."

08:48
The Guardian reports more than 4,000 police officers will be deployed for Wednesday's funeral of Lady Thatcher as British counter-terrorism officials assess if the Boston Marathon bombing has implications for the security of the high-profile event which starts at 4 pm (Beijing time).

08:05

Thousands of people have gathered at Arlington Street Church in Boston to hold a candlelight vigil for the victims.

07:54

1 Chinese dead in US marathon blasts

More information on the third victim is coming out. AP reports that the Chinese Consulate in New York says a Chinese national is the third person killed. An official at the consulate's press section said that one Chinese student was injured and another died in the blast. The official Chinese news agency Xinhua reported that relatives have requested that the deceased not be identified.

07:42

Images believed to show the first "pressure cooker" device that exploded at the Boston Marathon. Experts says the serial number and manufacturer can be traced from this image from the crime scene. (Fox 5)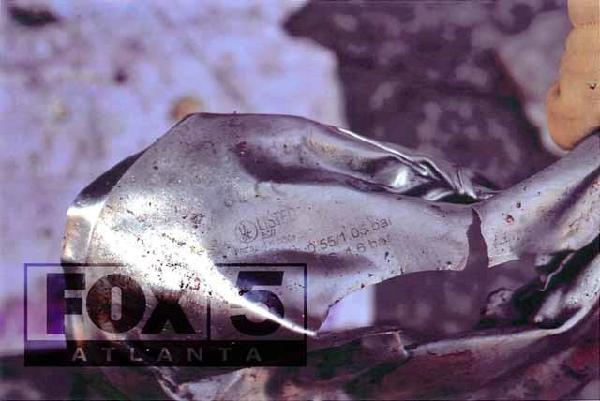 07:35

CNN has detailed the top five fake stories on the Boston blasts that highlight the best and worst of social media in news gathering. From a man who planned to propose to his girlfriend who died. Young girl died at finish line. Race organizers will donate for retweets. Police shutdown cell phone services to a host of conspiracy theories. http://edition.cnn.com/2013/04/16/tech/social-media/social-media-boston-fakes/



07:30

Fox 5 is claiming to have the first image of a fragment of one of the bombs.




06:53


"We are heartbroken at the death of our daughter Krystle Marie," Patricia Campbell, mother of bombing victim Krystle Campbell, ABC reports. "She was a wonderful person. Everybody loved her. She had a heart of gold and was always smiling. She worked hard in everything she did. You couldn't ask for a better daughter. This doesn't make any sense.
Meanwhile, Boston University confirms the third victim killed in Monday's bombing was a graduate student whose name has not been released pending permission from the family.

06:34

WHDH (A TV station in Boston) is showing an image of what appears to be the bomb moments before and after the explosion.


06: 28


A Letter with deadly poison ricin has been intercepted at an off-site mail site for US Capitol Hill. CNN reports the letter was sent to Mississippi Senator Roger Wicker but was intercepted at a mail sorting facility. The channel reports the letter tested positive three times for the poison.
06:00
The police manhunt being led by the FBI made another public appeal a short time ago for help with images and tips to catch the bombers, they believe hid the explosives in pressure cookers covered by nylon bags.
No claims of responsibility have been made by any terrorist group. Increasingly, the investigation seems to be focused on a local, lone wolf who targeted the marathon. For most, their thoughts are with the families of the dead and injured. Here, we will continue to bring you the latest developments as-it-happens.
05:40
In a hospital mix-up, the family of Krystle Campbell was told their daughter had survived her injuries from the Marathon bombings, only to later learn she was dead, reports WCVB-TV.
05:18
US president Barack Obama is going to Boston Thursday and attend the interfaith service 11 am ET on Thursday.
05:15
The FBI is holding a joint law enforcement news conference on the Boston blasts.
FBI Special Agent in Charge Rick Deslauriers has called on the public to think about anyone they know who recently purchased two backpacks, which they believe the explosive devices were hidden in and anyone who mentioned causing harm to the marathon or buying bomb-making material. "Someone out there knows something," he added. Police say they recovered a piece of black nylon from the scene. The range of suspects remains wide. He also repeated an earlier call for the public to hand in all photos and videos.
President Obama will visit Boston on Thursday. Police refused to name third victim due to next of kin notification.
Police say there is a lot of information, but the investigation will move slowly. They had undercover officers at the finish line to watch for pickpockets.
"Pieces of black nylon, which could be from a backpack" as well as BBs and nails sent to Quantico, Va., for analysis, says FBI Special Agent in Charge Richard DesLauriers. "At this time there are no claims of responsibility. The range of suspects and motives remains wide open," he added
04:16
Second bombing victim was identified. Krystle Campbell, 29, was at the marathon finish cheering for a friend.
02:21
The deadly bombs that turned the Boston Marathon into gruesome devastation were apparently placed inside pressure cookers hidden in backpacks, according to a federal law enforcement source.
00:19
Boston's 70-year-old Mayor Thomas Menino attended a news conference today appeared with a broken leg He checked himself out of hospital to appear before his voters and promise "we will get through this".
A Chinese student in Boston is reportedly in a coma, according to CNN who cited a number of Chinese injured in the blast.
00:08
Boston explosives made of pressure cookers with metal, ball bearings, according to AP sources briefed on investigation.