Live report: Boston & Texas plant blast
Boston blast
02:16
NPR's Pam Fessler reported that the two suspects are ethnic Chechens from Kyrgyzstan, and the suspect's aunt told that their family was deported to Kyrgyzstan in the early 1990s from Chechnya.
The uncle of Dzhokhar Tsarnaev, the Boston Marathon bombing suspect still at large, has urged his nephew to turn himself in. Ruslan Tsarni of Montgomery Village, Md., spoke to reporters from his driveway Friday.
02:10
Suspect' aunt is speaking to the media in Toronto, Canada, says the family arrived as refugees and she said the brothers arrived in the US in 2002. "They liked life in the US," she said. The first nephew (who is deceased) had a wife and daughter. The second, still on the run, also has a daughter.
01:50
The suspect at large early Friday was Dzhokhar Tsarnaev, 19, born in Kyrgyzstan, who became a naturalized American citizen on Sept 11, 2012, according to documents obtained by NBC News. He had a Massachusetts driver's license and was living in the Boston suburb of Cambridge. He was the suspect in the white hat in surveillance photos from the marathon released by the FBI, authorities said.
01:38
About 60 people are still unaccounted for after a fertilizer plant explosion, Sen. John Cornyn said a few minutes ago in a news conference.
Twelve people have been confirmed dead, and 25 houses in the blast area remain to be searched, DPS officials said.
Cornyn said authorities are checking hospitals and "making sure they know where people are," he said. 200 people were injured in the blast.
01:30
Local businesses were scrambling Friday morning after state authorities asked people in several communities to stay home and all transport service suspended, Boston Globe reports.
01:24
Russia condemns all "terrorists" regardless of their nationality, President Vladimir Putin's spokesman said on Friday after U.S. police shot dead a suspect in the Boston Marathon bombing who once lived in Russia, Reuters reports.
01:15
Ruslan Tsarni, uncle of Boston suspects, says his nephews brought "disgrace to the entire Chechen ethnicity" and have never lived in Chechnya, speaking outside his house to reporters in Montgomery village Maryland.
01:13
Today's front page of the Los Angeles Times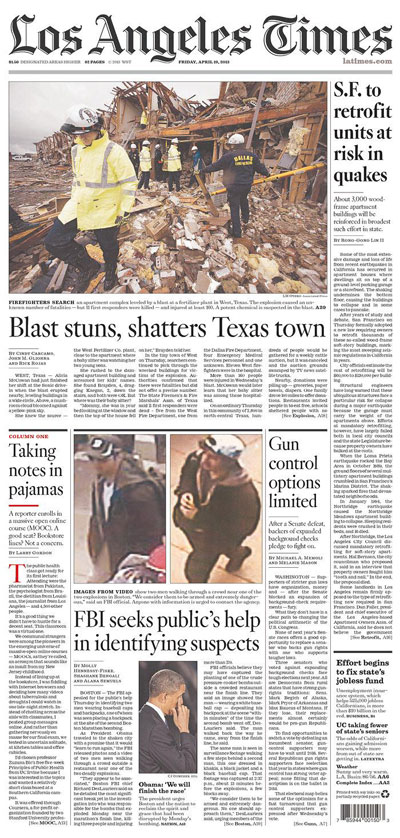 01:10
The LA Times says blast stuns, shatters Texas town
01:05
Today's front page of the Boston Globe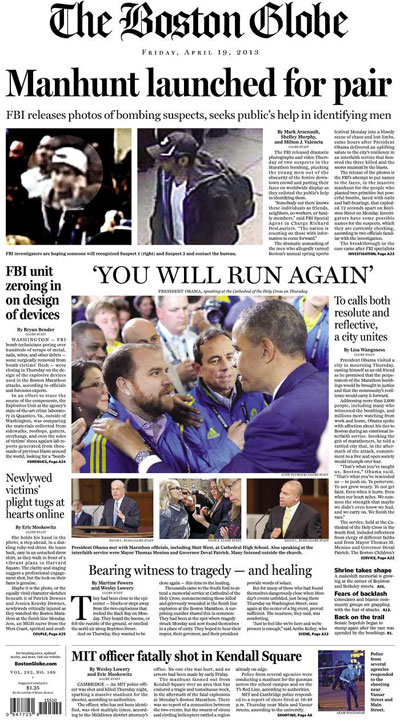 00:54
"We've got several other new leads that just developed in the last few minutes and we're working on that," says Mass State Police Col. Alben.
00:48
The police added they are 60 to 70 percent through going door-to-door in a search and rescue mode in Watertown, Meanwhile a manhunt for 19-year-old brother continues across the sleepy town. In Cambridge, where the brothers lived, reporters say it looks like police are preparing for a controlled explosion, CNN reports.
00:46
Massachusetts Governor Deval Patrick has spoken at a news conference in Watertown, Texas to thank residents for remaining indoors while the police hunt the bomber-on-the-run. The police said there will be a controlled explosion in next hour and appealed for people to stay indoors.
00:40
Reuters graphic showing latest developments.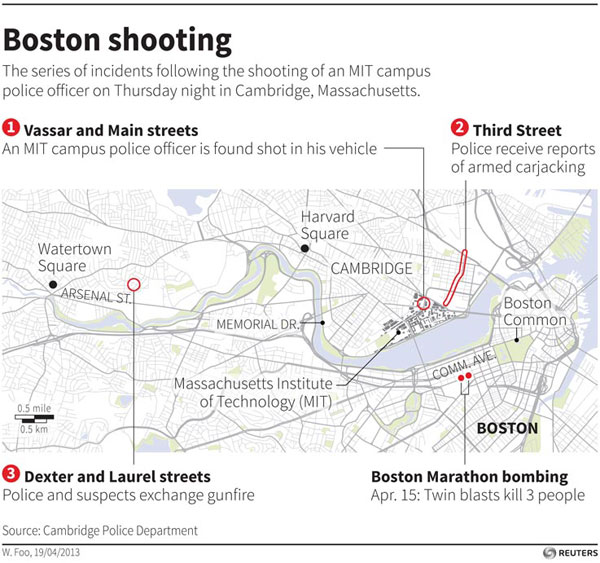 16:38
"We believe this man to be a terrorist, we believe this is a man has come here to kill people," Boston police chief told the people of Watertown to stay indoors as they search house-to-house for the second bomber.
16:30
One bombing suspect is dead the other is on the run and people in Watertown have been warned to be on the look out for the suspect, one with white cap, who should be considered armed and dangerous. He advised everyone to stay indoors and stay calm.
16:15
The Police have just issued a statement:"At approximately 10:20 pm April 18, police received reports of shots fired on the MIT campus. At 10:30 p.m., an MIT campus police officer was found shot in his vehicle in the area of Vassar and Main streets. According to authorities, the officer was found evidencing multiple gunshot wounds.
He was transported to Massachusetts General Hospital and pronounced deceased.
Authorities launched an immediate investigation into the circumstances of the shooting. The investigation determined that two males were involved in this shooting.
A short time later, police received reports of an armed carjacking by two males in the area of Third Street in Cambridge. The victim was carjacked at gunpoint by two males and was kept in the car with the suspects for approximately a half hour. The victim was released at a gas station on Memorial Drive in Cambridge. He was not injured.
Police immediately began a search for the vehicle and were in pursuit of the vehicle into Watertown.
At that time, explosive devices were reportedly thrown from car by the suspects. The suspects and police also exchanged gunfire in the area of Dexter and Laurel streets. During this pursuit, an MBTA Police officer was seriously injured and transported to the hospital.
During the pursuit, one suspect was critically injured and transported to the hospital where he was pronounced deceased. An extensive manhunt is ongoing in the Watertown area for the second suspect, who is believed to be armed and dangerous."
16:06
Massachusetts State Police spokesman David Procopio said that the violent events at MIT and Watertown appeared to be connected, and that federal authorities were investigating whether the violence was connected to the marathon bombings. At least one of the suspects in Watertown appeared to be a man in his 20s who was seen removing his clothes before being taken into custody, Boston Globe reports.
16:04
Police will be going door by door, street by street, in and around Watertown. Police will be clearly identified. It is a fluid situation, tweeted the MASS State Police
Bomb Squad offers in Watertown will carry out a controlled detonation in the next few minutes, CNN reports
16:02
A map showing the two different crime scenes between the MIT shooting A and the sleepy town of Watertown where people are being told to stay indoors and don't answer the door to anyone.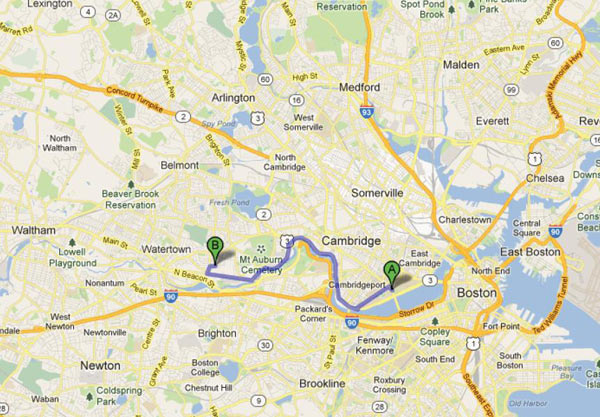 15:48
A suspect in the Boston Marathon bombings was killed early Friday morning, while the second suspect was being sought following an attack on police officers in Watertown that involved explosives and gunfire, according to to Boston's WCVB TV.
15:40
It is still unclear if the person in custody is connected to the Boston bombing after a man was arrested after an MIT police officer was shot on campus. A massive police operation followed nearby in Watertown, a few miles from the police shooting. This all comes hours after a massive social networking campaign by Boston police releasing images of two men wanted in connection with the marathon bomb which killed 3, injured 170.
15:07
The Boston Globe is reporting that one of the marathon bomb suspects is in custody, the other remains at large. CNN says this is the man known as suspect 2 who was wearing a white baseball cap. The FBI released new images of the suspects at 2 am local time. Meanwhile, numerous reports of multiple explosions reported in Watertown.
The FBI denies the suspect in custody is connected to the bombing at this stage, CNN reports. Meanwhile, the massive police operation continues in Watertown near Boston.(See map below)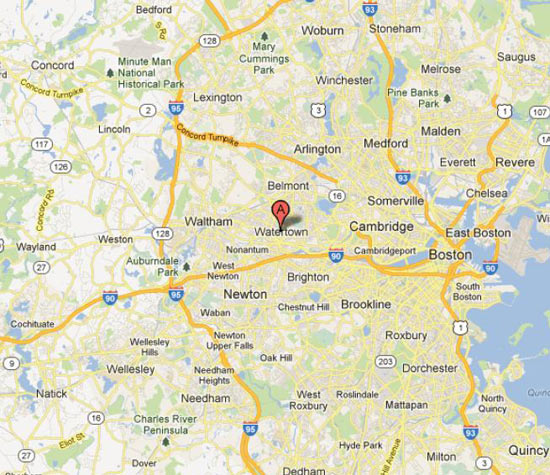 15:00
The Boston Globe is reporting that one of the marathon bomb suspects is in custody, the other remains at large. CNN says this is the man known as suspect 2 who was wearing a white baseball cap. The FBI released new images of the suspects at 2 am local time. Meanwhile, numerous reports of multiple explosions reported in Watertown.