Venezuela's Maduro, rival end campaigning
CARACAS - Acting President Nicolas Maduro and opposition leader Henrique Capriles both wrapped up campaigning Thursday, both expressing confidence for winning Sunday's election.
The one-month campaigning is the shortest in the history of Venezuela as it was called after the death of late President Hugo Chavez on March 5.
Maduro, representing the United Socialist Party of Venezuela (PSUV), ended his campaign at city center after participating in several marches with his supporters in Caracas.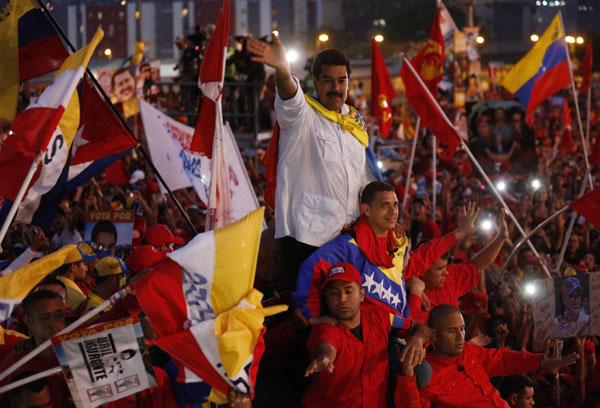 Venezuela's acting President and presidential candidate Nicolas Maduro waves to supporters as he arrives at his closing campaign rally in Caracas April 11, 2013. Venezuela will hold its presidential elections on April 14.[Photo/Agencies]
During the last rally on the Simon Bolivar Avenue, the political heir to Chavez was surrounded by hundreds of thousands of fans dressed in red, including former Argentine soccer star Diego Armando Maradona, who arrived Wednesday to show his support.
"I hope to live up to the responsibility he (Chavez) gave me, I aspire to live up to these people. They may know the poor of our country that will have me as his protector, his father, President, " Maduro said.
Maduro, who was appointed by Chavez as his political heir before the latter travelled to Cuba early December for cancer treatment, highlighted the efforts of his mentor to improve the lives of the poor.
"You know how they say (Chavez)? The Christ of the poor in Latin America, "he said.
The acting president, posing as the "son of Chavez", insisted he never had aspirations of power and that his only wish was to have a "socialist fatherland and freedom" which was left by Chavez.
"I'm not standing here because I'm an ambitious in power, I'm not here because of representing a group linked to an empire. I never aspired to anything, my only ambition was to see a free and socialist motherland, and that's what Hugo Chavez gave us, " he said.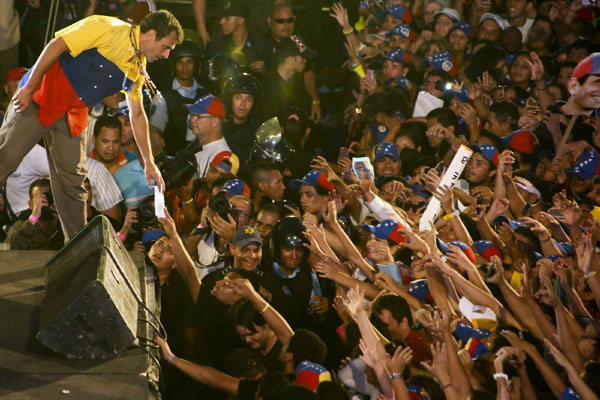 Venezuela's opposition leader and presidential candidate Henrique Capriles (L) greets supporters during a campaign rally in the state of Lara April 11, 2013. Venezuela will hold its presidential elections on April 14.[Photo/Agencies]
Meanwhile, Capriles spent the last day of campaigning in Barquisimeto, northwestern Lara state. Addressing a crowd on the Venezuela Avenue, the opposition leader mobilized his supporters into what he called a "crusade for the future" .
Representing the opposition Democratic Unity Roundtable (MUD) coalition, he managed to run in recent weeks a campaign similar to the one during the previous presidential election in October, in which he was defeated by Chavez, going door to door to get the vote.
"I decree as the next president of all the Venezuelans of an united Venezuela. To win to succeed, we will vote on Sunday for the future," Capriles told his supporters.
He added that he never imagined that life "would put me another chance and come here with a message of profound respect for all our people: I want to be president of all Venezuelans," referring to his last election with Chavez,
"What is coming is the Venezuela of life, not of death," he said, appealing his supporters to vote on Sunday to choose Venezuela's future  "between life and death, between security for the people or for a small plugged group.".
The opposition leader added that he is working on new economic measures to improve the quality of lives of Venezuelans, because he knows that living costs soared over the past four months and the current government should be blamed for it.
He said his plan for the country is "to recover the Venezuelan economy," while reiterating his promise to increase wages by 40 percent and generate 3 million jobs once assumed the presidency.
On Sunday, an estimated 18 million Venezuelan voters will go to polling stations nationwide to choose a new president for the South American nation. The end of campaigning means political ads to be withdrawn from the news media and alcohol sales are prohibited all around the country.