New visa to strengthen New Zealand-China ties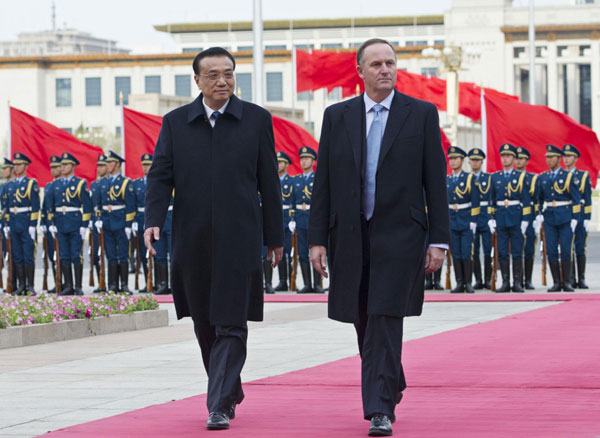 Chinese Premier Li Keqiang (L) holds a welcoming ceremony for Prime Minister of New Zealand John Key before their talks in Beijing, capital of China, April 10, 2013. [Photo/Agencies]
WELLINGTON - A new visa agreement between New Zealand and China will allow business travelers multiple entries between the two countries for up to three years, the New Zealand government announced Thursday.
Prime Minister John Key, currently on an official visit to China, said the new multiple-entry business visa would strengthen business connections between the two countries.
"The new visa will lower the cost of travel for frequent business travellers and make it easier for business people to move between the two countries," Key said in a statement from his office.
"Business people from both countries will not need to apply for visas as frequently. This will reduce the transaction costs, and increase the certainty of business travel."
The new visas, which will apply from July 1, mean China can issue New Zealand business visitors with a three-year multiple-entry visa enabling them to stay for up to 30 days on any one visit.
New Zealand can issue Chinese business visitors with three-year multiple entry visas enabling them to stay for a maximum of 90 days in any 12-month period over the course of the three years.
The two countries also agreed reciprocal three-year multiple- entry visas to diplomatic passport holders travelling for official meetings.