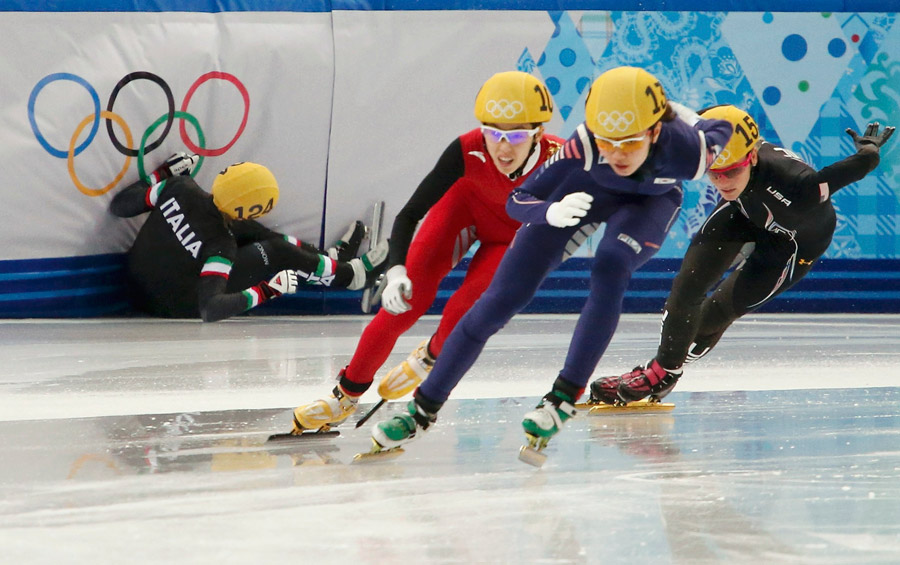 Italy's Arianna Fontana (L Rear) crashes out in the women's 1,000 metres short track speed skating quarterfinal event at the Iceberg Skating Palace during the 2014 Sochi Winter Olympics February 21, 2014. Skating in foreground are from R-L, Emily Scott of the US, South Korea's Shim Suk-hee, and China's Fan Kexin. [Photo/Agencies]
SOCHI - China took two silver and one bronze medals on the last day of short track speed skating competition at the Sochi Olympics on Friday, tallying six medals in the sport.
In the last event on Friday, the Chinese team had to settle for the bronze in six minutes and 48.341 seconds after fighting against the Netherlands for most of the race.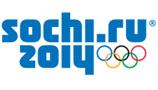 Chinese pace-setter Chen Dequan was brought down by Dutch Daan Breeuwsma on the first lap of the men's 5,000m relay final.
Victor An led Russia to the 5,000m title over the United States, winning his own sixth gold in the Olympics.
Women's 500m world champion Fan Kexin picked a silver medal from the 1,000m final, which was won by South Korean Park Seung-Hi, whose teammate Shim Suk Hee got the bronze.
Chinese Wu Dajiang finished runner-up to An in the men's 500m final with Canadian Charle Cournoyer taking the bronze.
Wu was overtaken by An at the last lap and beaten at the finish by 0.214 seconds.
China won two gold medals on short track, through Zhou Yang in the women's 1,500m and Li Jianrou in the women's 1,500m.
Han Tianyu had won a silver for China in the men's 1,500m.
"The Chinese team had a brilliant show in Sochi, making it to the all eight finals," said Chinese snow and ice sports chief Zhao Yinggang.
"With four-time Olympic champion Wang Meng nursing an ankle injury at home, the Chinese team fought bravely and a few athletes have achieved their personal best results."