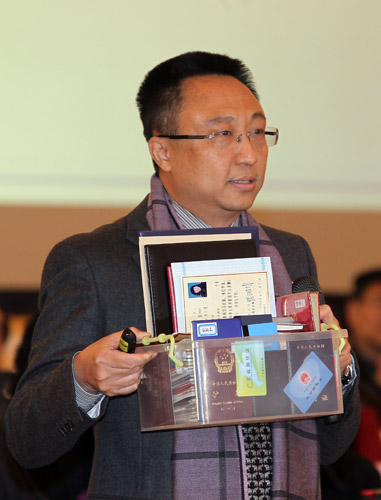 Cao Zhiwei, a political adviser from Guangzhou, displays certificates that a citizen will likely obtain during a lifetime. He asked the government to establish an online database for various departments to share citizens' information. Ma Qiang / for China Daily
The establishment of an online database of citizens' information should greatly help simplify procedures for residents who need to apply for various certificates and documents, a political adviser in Guangzhou said.
Cao Zhiwei, a member of the Guangzhou Committee of the Chinese People's Political Consultative Conference, said the amount of red tape related to approving citizens' documents needs to be reduced.
"Guangzhou should take the lead in setting up an online database, which can store citizens' information, including tax and credit information as well as criminal records," Cao said.
During a discussion at the annual local political consultative conference, which ended on Thursday in Guangzhou, capital of Guangdong province, Cao displayed a transparent box holding 103 certificates to highlight the amount of bureaucracy that citizens have to deal with to get commonly used services.
According to Cao, Chinese citizens have to apply for more than 400 certificates during their lifetime, 103 of which are used regularly.
"Citizens have to apply for their first certificate — the birth permission — before they are born," Cao said sarcastically.
"Then they are required to apply for more — in identity, education, work, home and marriage, property and insurance and even death," he noted.
According to Cao, a citizen must go through at least 18 departments and 39 offices, a process that employs more than 100 stamps as well as numerous fees that must be paid, to obtain the 103 certificates.
Citizens also have to submit the hukou, or household registration documents, 37 times, send 50 photos and submit their identity card 73 times for the 103 certificates, Cao added.
"It seems like we are always on the road to apply for various certificates as it takes a lot of time to go through the procedures. A database to share citizens' information is essential," Cao said.
In response, Wan Qingliang, Party chief of Guangzhou, told the local reform- leading group to take up Cao's proposal.
Referring to the paperwork reform as a crab, Wan said the government needs courage and wisdom to deepen administrative reform to allow for an easier application process to get certificates.
"We should not be afraid of the crab. Instead, we need to eat it," Wan said.
In an online survey conducted by Sohu.com on Friday, more than 50 percent of respondents spoke of the difficulty in applying for a birth permission certificate for their child.
Other respondents talked about applying for property certificates, household registrations, passports, unemployment benefits, temporary residence permits and social insurance and identification cards.
"From my childhood, I know that a lot of certificates are needed during my lifetime, and it is often very troublesome to obtain them," said Ke Xiaodan, a resident of Guangzhou.
"Can the authority issue a certificate — for example, the identification card — to use my personal information for different applications?"
Tan Yanhong, a deputy to the Guangzhou People's Congress, said the procedures for applying for most certificates in Guangzhou have been simplified quite a bit.
"I have applied for some certificates — it is much easier now if you get all the needed documents ready in advance," Tan said.
But he suggested that authorities might transfer some of the responsibility for dealing with certificates to the grassroots level.
"For example, a lot of certificates, such as the one for birth, should be approved by the neighborhood committee," Tan said.
He also recommended that the authorities merge separate departments and offices into a one-stop website and allow online applications for faster and more convenient access for citizens.