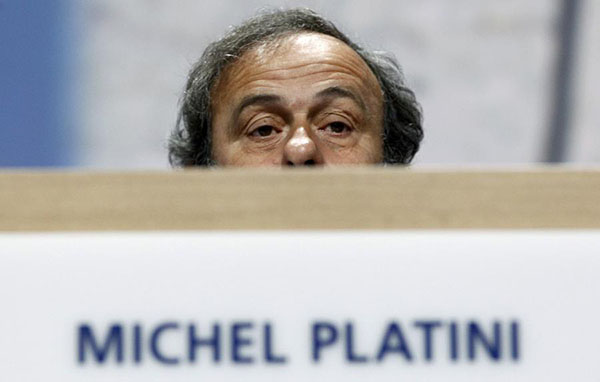 UEFA president Michel Platini who attends the 61st FIFA congress in this picture taken June 1, 2011 at the Hallenstadion in Zurich, Switzerland. [Photo/Agencies]
PARIS - Former French football great Michel Platini, until recently seen as the man to lead soccer's governing body FIFA out of its worst ever graft crisis, could face a life ban from the sport if recommendations from FIFA ethics investigators are followed.
FIFA's ethics committee has completed an inquiry into accusations of corruption against Platini, who as a player led French football out of the doldrums in the 1980s before becoming one of the sport's most powerful officials.
A media consultant representing Platini's lawyer Thibaud d'Ales said ethics committee official Vanessa Allard had recommended a life ban for the Frenchman, who is head of European soccer's governing body UEFA.
"I can confirm that she is proposing to the ethics committee a ban for life," the consultant told Reuters.
Allard's report has been passed to FIFA ethics judge Hans-Joachim Eckert who is due to issue a verdict by the end of the year.
Swiss authorities opened criminal proceedings against Blatter in September over a 2 million Swiss franc ($1.97 million) payment from FIFA to Platini in 2011. The case was part of a broader scandal that broke around FIFA in May when 14 officials including two ex-vice presidents were indicted in the United States.
Disgusted by corruption
Platini, who in May said that he was disgusted by corruption within FIFA, and Blatter have both been suspended for 90 days. They deny wrongdoing.
Blatter's former public relations officer and confidant Klaus Stoehlker said the Swiss did not want to "go into detail for now" on what the committee had recommended in his case.
"He was very surprised at the news about Platini," Stoehlker added.