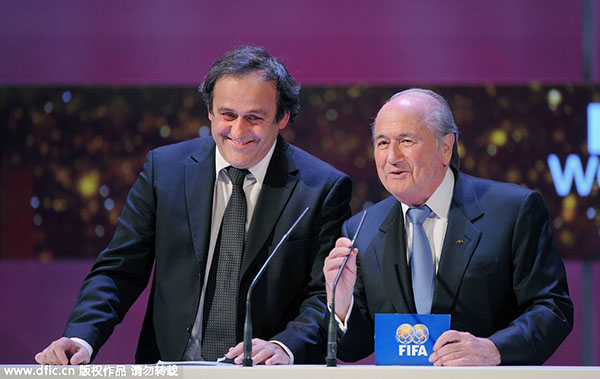 UEFA President Michel Platini and FIFA President Sepp Blatter attend the FIFA World Player Gala 2009 in this undated file photo. [Photo/IC]
ZURICH - World soccer chief Sepp Blatter and European boss Michel Platini were suspended on Thursday, engulfed by a deepening corruption scandal as their sport faces criminal investigations in Switzerland and the United States.
Blatter, the Swiss who has been president of world governing body FIFA since 1998, was already due to stand down after an election to replace him in February.
Platini, head of European body UEFA, was a frontrunner to replace him. His shrinking election hopes now depend on whether he can overturn the 90-day ban imposed by FIFA's Ethics Committee through an appeal process.
Despite their denials of wrongdoing, both men have gradually been submerged by the scandal that has rocked the world's most popular sport, beginning with dawn raids and a series of arrests at a Swiss luxury hotel in May.
"During this time, the above individuals are banned from all football activities on a national and international level," the ethics committee said.
FIFA said in a statement: "Joseph S. Blatter, for the duration of the 90-day ban, is not allowed to represent FIFA in any capacity, act on the organisation's behalf or communicate to media or other stakeholders as a FIFA representative."
It said his acting replacement was Issa Hayatou of Cameroon, the head of the Confederation of African Football (CAF) and FIFA's most senior vice president.
In 2011, Hayatou, 69, was reprimanded by the International Olympics Committee's ethics commission after he confirmed to them that he was paid by FIFA's former marketing agency International Sport and Leisure in 1995.
The IOC said such an action constituted a conflict of interest. Hayatou denied any personal gain or wrongdoing.
In a statement on Thursday, the Cameroonian said he would not be a candidate for FIFA president in February and had taken on the role "only on an interim basis".
However, UEFA took a different and defiant stance, saying they supported Platini, still referring to him as the organisation's president and saying they would not replace him while he appeals.
"The UEFA Executive Committee expressed its full confidence in UEFA President Michel Platini and stands fully behind him," they said in a statement.
Platini issued a personal statement, through UEFA's media department, saying he was motivated by a "profound feeling of staunch defiance".
"I have received numerous messages of support today from UEFA's member associations and the other confederations encouraging me to continue my work serving football's interests. Nothing will make me give up on that commitment," he said.
UEFA, whose 54 member associations will gather in Nyon next Thursday, later issued a second statement acknowledging that Platini was suspended and that he "would not perform his official duties for the time being" and that he had cancelled several official trips.
Platini said he had submitted his nomination papers for the election before being suspended.
The soccer federation of Germany, winner of last year's World Cup, urged Blatter to resign and called for an emergency meeting of FIFA's executive committee. The Asian Football Confederation supported the call for a swift meeting of FIFA's ruling body.
"The future can only be constructed without the current president, without Sepp Blatter," German soccer chief Wolfgang Niersbach said. "That would be a sign of a new start and would be a mark for everyone that cleanliness was returning to football."