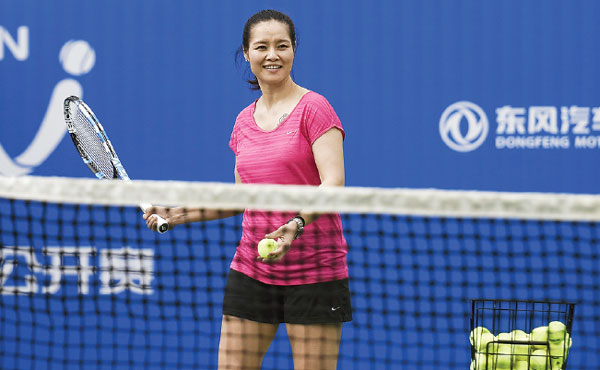 Li Na, China's retired two-time Grand Slam champion, instructs during a master class at the Wuhan Open in Wuhan, Hubei province. AFP
China's next generation of stars taking cue from career path of retired Grand Slam champion
Li Na's Grand Slam wins did miraculous things for tennis in China, but experts say a cultural shift away from central planning towards individual development is needed if the country is to emerge as a powerhouse in the sport.
Tangible evidence that China is embracing tennis comes in the form of the Wuhan Open's new, 15,000-seat stadium, opened by Li last month, which has a capacity similar to Wimbledon's Center Court.
Steady crowds and the presence of 12 Chinese players in the women's top 200 - behind only Russia, the United States and the Czech Republic - also demonstrate the game's upward trajectory.
Much of the growth is directly attributable to Li, Asia's first Grand Slam singles champion who won two major titles before she retired on the eve of last year's inaugural Wuhan Open.
But many observers believe China might have an extended wait for its next Grand Slam winner.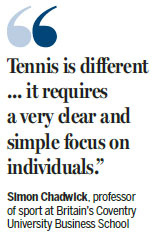 Simon Chadwick, professor of sport at Britain's Coventry University Business School, suggests China needs a cultural rethink.
"The factory-style government development of athletes might work in sports such as gymnastics. Tennis is different ... it requires a very clear and simple focus on individuals," Chadwick said.
"Unless China embraces this notion then one imagines that the country will find it difficult to enable the type of cultural change that is required to promote the sport's development."
Li, who at a young age was ordered to abandon badminton for tennis against her will, famously took a stand to split from the state system in order to organize her own sponsorship and be coached by her husband.
It took years of difficulty and media sniping before she finally made it big late in her career, becoming a superstar in her home country, complete with a bronze statue in her native Wuhan.
Jorge Salkeld, a Women's Tennis Association board member and senior vice-president at Octagon Tennis, the Wuhan Open's promoter, said the "Li Na factor" has seen the popularity of tennis in China surge.