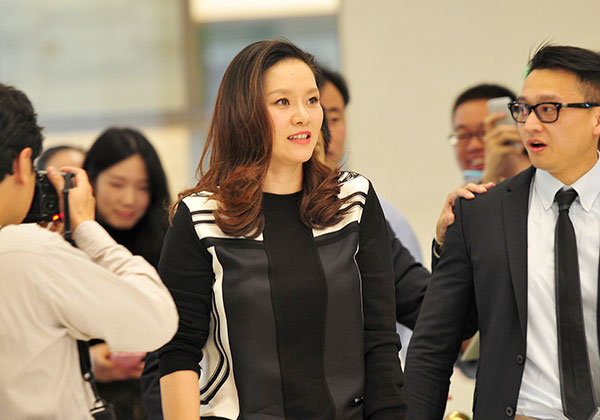 China's two-time Grand Slam winner Li Na attends a brand promotion in Hangzhou, Zhejiang province, in October after her retirement last year and her daughter's birth in June. [Photo/China Daily]
After retiring from professional tennis 14 months ago, Grand Slam champion Li Na has embraced many new roles, one by one, in her personal life-including new mother.
Now the 33-year-old appears set to make another transition to businesswoman, exploring new directions in her post-athletics career around the game that brought her fame and fortune, as well as some controversy.
"I will try to reinvent myself as a businesswoman, which might be a pretty big challenge. Every athlete faces new challenges and has to adapt to new roles in life after retirement. Why not trying new things?" Li said from the sidelines at the WTA Elite Trophy tennis tournament in Zhuhai, Guangdong province, on Sunday.
Li appeared in Zhuhai to promote the inaugural year-end tournament of the Women's Tennis Association as an ambassador, a role that has kept her busy visiting different tournaments around the world since the birth of her daughter in June.
Having sparked a tennis boom in Asia by winning two Grand Slam singles titles-the 2011 French Open and the 2014 Australian Open-Li is committed to developing a business around the increasingly popular game. One venture, a tennis academy under her name, is in the pipeline.
"The plan to build an academy has been developing over the past year. We are dealing with some practical difficulties that we want to work out before announcing all the details," Li said.
Once established in China's grueling State-run sports system, Li had to forgo cultural education starting at an early age to focus fully on athletic training.
Li chose to temporarily retire from the system in 2002 to study at Huazhong University of Science and Technology, where she acquired a bachelor's degree in journalism in 2009.
Her experience in making up the lost lessons inspired Li to build a unique academy that combines tennis training and education, a marriage of goals that presents certain difficulties.
Li said her academy won't be built for the purpose of nursing the next generation of professional players for China but to educate more children in general through tennis as a hobby.
"I would love to teach kids as a trainer, but I will definitely not be a full-time coach for professional players. After all, I have to take care of my family," she said.
Having returned to family life, as she long expected she would, Li appears even busier than she was as a player. She visited six different cities, including her hometown Wuhan, Beijing and Singapore, to promote local tournaments while attending commercial events in the past 40 days.
Still, her 5-month-old daughter, with the English name Alisa, always strikes a chord in Li's heart wherever she is.
"My husband and I try to take care of her by ourselves, though it's a new and demanding challenge," she said before hosting a tennis clinic for 50 junior players in Zhuhai.