Talented Texan sees Champions as 'start of a new year'
Jordan Spieth wore a black tunic with red trim around the collar to take part in a Chinese drum ceremony on Tuesday afternoon, just as the Shanghai skyline began to glow with lights behind him and three other top players.
At the traditional photo opportunity to kick off the HSBC Champions, one observer noted that Spieth had not dressed like that since graduation, which for him was only four years ago - from high school.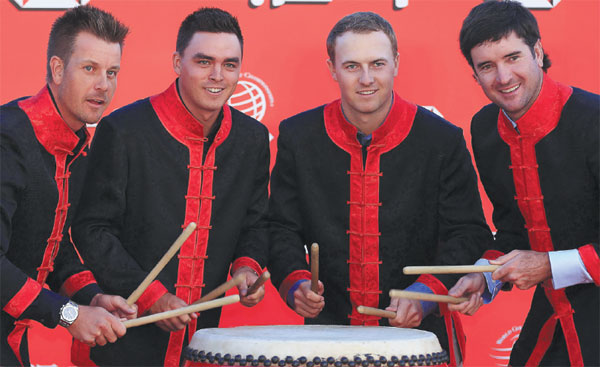 From left, Henrik Stenson of Sweden joins fellow PGA Tour stars Rickie Fowler, Jordan Spieth and Bubba Watson of the US in banging the drum during a promotion for the WGC-HSBC Champions near the Bund in Shanghai on Tuesday. Aly Song / Reuters
The landscape in golf is changing quicker than the rapid beat of those Chinese drums.
One year ago, Spieth was not even in the top 10 in the world and had only one win as a pro. Since then, the 22-year-old Texan has won seven times around the world, including the Masters and the US Open, along with a Tour Championship that capped a record haul of $22 million for the year. He is looked upon as the future of American golf.
At least for now.
Also on the stage with Spieth was 26-year-old Rickie Fowler, who is coming off a big year of his own. Fowler won three times, the biggest at The Players Championship where he delivered perhaps the greatest finish of the season when he made three birdies on the island-green 17th to win a tension-filled playoff.
Jason Day could not make it to China. The 27-year-old Australian is home awaiting the birth of his second child. And the drum beat had to go on without 26-year-old Rory McIlroy, who was coping with a stomach ailment.
Not to be overlooked are the three winners of the new PGA Tour season: Emiliano Grillo (23), Smylie Kaufman (23) and Justin Thomas (22).
That explains why PGA Tour commissioner Tim Finchem sounded at ease when asked about golf moving along without Tiger Woods.
"We are headed for a long period of parity with a lot of stars being developed," Finchem said at the HSBC Golf business forum.
"And in today's world, you can become a star in a hurry. It's a great thing. The professional game is in exceptionally good shape. But I think the next 10 years are the most exciting we'll ever see to this point."
It sure seems that way.
The top three players - Day, Spieth and McIlroy - are all in their 20s and hail from three continents. Players in their 20s won three majors for the second straight year.
That had occurred only twice in the previous four decades, and one of those years was 2000 when a 24-year-old Woods won three majors.
Woods had another back procedure last week - that's three in the past 20 months - for another clear sign that his time is about up, if it isn't already.
But leave it to Spieth, with his wise head on such young shoulders, to preach patience and perspective.
A new era in golf?
"I think it's a bit soon," Spieth said. "For Rory, it's different because it's been consistent for years now. Jason and I, we've played solid golf the last few years.
"In order to create an era, you almost need a decade of years like this.
"Sure, we have the potential to do it. But this was the first year of it. But unless we keep our heads down ... unless we're aware of it, and it drives us, and we get the right breaks, there's a lot of factors. So maybe it's a big premature to say that.
"But I believe there was a step needed in the right direction, and it took place this year. If we can ride with that, it will be significant."
Spieth looks at this as a new year, and the World Golf Championship that starts on Thursday at Sheshan International is his first event of a new PGA Tour season.
McIlroy, still catching up from the two months he missed this summer from an ankle injury, is wrapping up another Race to Dubai title the rest of the month.
The beauty of having a cast of stars so young, as Fowler noted, is that they can battle each other for the next 10 or 15 years.
Then again, maybe the conversation might include a different list - or a longer list - of players at this time next year.
That seems improbable now, but consider where golf was a year ago. McIlroy was No 1 and the only debate was which player was best suited to challenge him.
McIlroy now is No 3, and the list is growing.