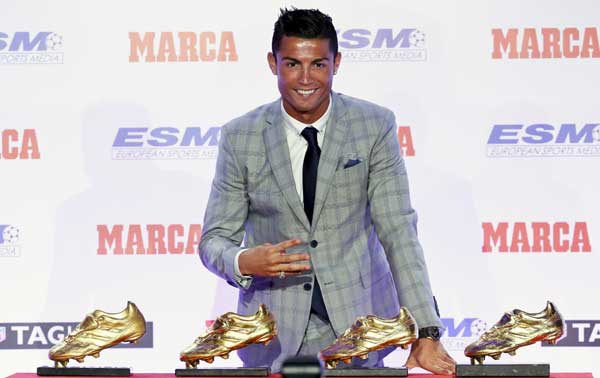 Real Madrid's striker Cristiano Ronaldo poses in front of his four Golden Boot trophies during a ceremony in Madrid, Spain, October 13, 2015. [Photo/Agencies]
MADRID -- Real Madrid striker Cristiano Ronaldo said he believed he was a better player than FC Barcelona's Leo Messi in an interview published in Spanish sports paper, Marca on Sunday.
Ronaldo was giving one of his first interviews since vetoing the press after his controversial 30th birthday party in February, which came following a 4-0 defeat to Atletico Madrid.
Speaking over various aspects of his career, Ronaldo was asked about Messi, who is seen as his biggest rival to be considered the best player in the world, saying he was "not annoyed" by his presence.
"If you look at my last eight years, I have been on top. Name any other players who have done that," he said.
"If you are number one or not, is a question of details, if you win titles or not, but although some people may think Messi to be the best, I think that I am."
Ronaldo said that boos from rival supporters don't upset him, but have the opposite effect.
"I need an enemy, it's part of the game and I have been booed since I was 18 or 19, it's not a problem, it motivates me," he said.
Ronaldo insisted that hard work was vital to be a top player, but admitted at times he suffered pain for his efforts.
"I feel it every day," he admitted, saying a body "was not accustomed" to training hard and playing twice a week.
He said he had adapted his life to ensure he was in top condition, saying that when in the past he would have gone out, now he "goes home to recover and be better the following date."
"Football is my life. It's what I love most," he explained.