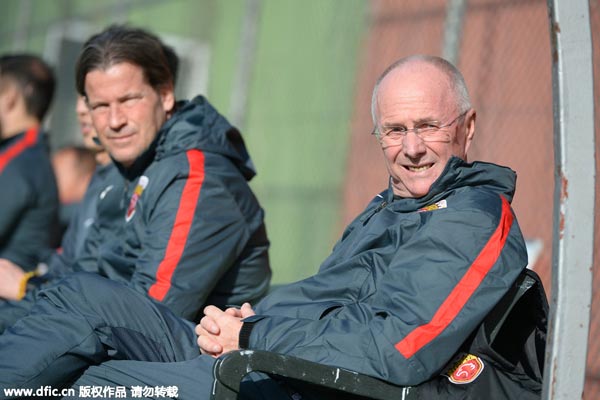 Sven-Goran Eriksson, right, head coach of Shanghai SIPG Football Club smiles during a friendly match against FC Universitatea Craiova in Antalya, Turkey, Feb 4, 2015. [Photo/IC]
China has a long way to go, says ex-England boss
Chinese soccer could struggle to attract youngsters away from table tennis and badminton and needs a home-grown star playing in Europe before it really takes off, ex-England boss Sven-Goran Eriksson said.
President Xi Jinping has high ambitions for soccer's sleeping giant, including a rumored bid to hold the World Cup - a tournament which 82nd-ranked China has only reached once.
Eriksson, the coach of Shanghai SIPG, backed China's new plans to raise standards, including training players from an early age and introducing the sport to more schools.
But speaking to AFP in Shanghai, the well-traveled Swede warned it will take "some years" before any evidence of improvement is apparent.
"The reason for that is that the grassroots soccer is almost non-existent," Eriksson said.
"That is a pity because young people - boys, girls - they play badminton, they play ping-pong, they play basketball. Soccer ... almost nothing."
China dominates Olympic table tennis and badminton, and basketball has a long tradition in the country highlighted by the NBA exploits of Yao Ming.
But Eriksson said Chinese youngsters did not have the access to spaces to play soccer that children in Europe enjoy, putting them at a disadvantage.
"If you go to the parks it is always written in Chinese 'Don't walk on the grass'," he said, before drawing a comparison to London's green spaces.
"Hyde Park, Regent's Park. Saturdays, Sundays. What are people doing there? Playing soccer.