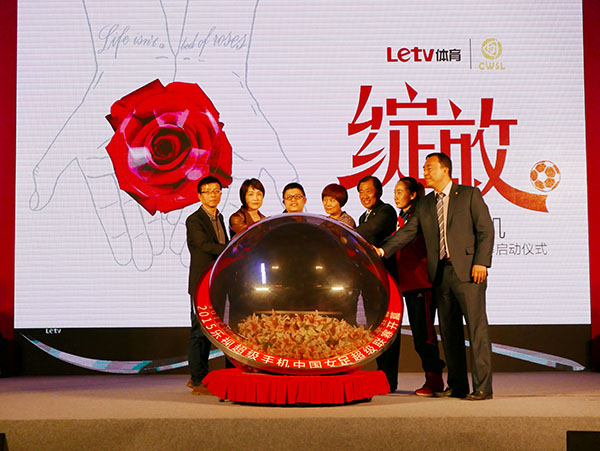 Chinese Football Association officials, executives of LeTV and former female national team players launch the 2015 season of Chinese Women's Super League in Beijing on Wednesday. [Photo provided to China Daily]
China's ambitious plan of improving soccer levels in the country has borne fruit in the world of women's soccer as the upgraded version of a women's league was launched on Wednesday with lucrative sponsorships.
The Chinese Women's Super League, the female equivalent of the men's Chinese Super League, will kick off its 2015 season on Sunday in Beijing with host Beijing squaring off against Jiangsu in the league opener, organizers said on Wednesday.
The CWSL will feature the top eight teams of last year's 16-club domestic league playing in a home-and-away system, and the remaining eight sides will play in a round-robin tournament as the second-tier competition.
The team finishing last in CWSL will be relegated to the second division next year while the top club from the lower-level tournament will get promoted to CWSL.
It will be the first time the women's league resumes the promotion and demotion system over the past four years, a sign suggesting that female participation in soccer has been improving following setbacks on the international stage, said officials.
"We are able to develop the league into two groups because we have enough teams and enough venues to host the competition, which shows the growth of the talent pool and the increasing support for women's soccer," said Liu Ailing, former national midfielder and current youth development official with Beijing Football Association.
"However, to develop the women's league into a popular product appealing to fans like the CSL is still a long way off due to the lack of facilities, funding and attention to women's soccer," said Liu.
Thanks to Chinese President Xi Jinping's concern over soccer, a comprehensive reform and development plan involving women's soccer and soccer among youth was approved by the State Council, China's cabinet, in February and has started to inspire enterprises to invest in the game once tarnished by corruption scandals.
LeTV Holdings Co Ltd, an emerging internet and technology company, announced on Wednesday that it has signed a five-year contract with the Chinese Football Association to become CWSL's title sponsor, commercial partner and main broadcaster. The deal amount was not disclosed.