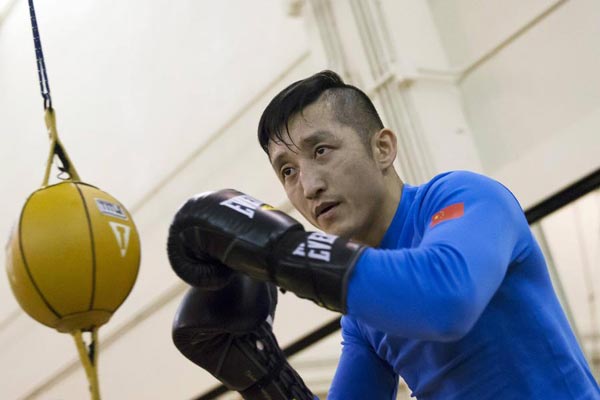 Double Olympic champion flyweight Zou Shiming of China works out in front of the media at the Venetian Macao hotel in Macao March 5, 2015. Zou will challenge undefeated International Boxing Federation (IBF) flyweight world champion Amnat Ruenroeng of Thailand for his first professional world title on March 7 in Macao. [Photo/Agencies]
Come Sunday, current world flyweight champion Amnat Ruenroeng might feel a little like the fabled Trojan sentry who told his pals: "Hey, that's a swell looking wooden horse! Sure, I'll sign for it ..."
Going into Saturday's 12-round title clash against Zou Shiming at the Venetian Resort in Macao, it appears the talented Thai and his handlers might have been manipulated into thinking it will be an easy night.
Ruenroeng has won 14 straight fights and knocked out five opponents since turning pro in 2012. He won the vacant IBF crown with a unanimous decision over Rocky Fuentes of the Philippines 15 months ago and has hammered out 12-round split-decisions in defenses over Japan's previously undefeated Kazuto Ioka last May and McWilliams Arroyo of Puerto Rico in September.
The champ has fought 108 pro rounds compared to just 45 for Zou, the poster boy for Chinese boxing who turned pro in 2013. And at 35 Ruenroeng is just two years older than the native of Zunyi, Guizhou province, who struck gold at the 2008 and 2012 Olympics.
Everything appears weighted in Ruenroeng's favor - but it's still difficult to shake the feeling the quarterfinal loser at the Beijing Games has been carefully selected by savvy Top Rank promoter Bob Arum to maximize Zou's drawing power ... and ultimately deliver the crown to a guy who wasn't even on the title radar a year ago.
For starters, the two fought three times as amateurs, with Ruenroeng triumphing in their first encounter and Zou winning the other two - the last a 5-2 decision in the 2010 Asian Games semifinals.
More telling, Arum - who owns Zou's promotional rights - has shown no qualms about sending his boy into the lion's den against a vastly more experienced world champion.
"Freddie Roach has really done a great job turning Zou from an amateur star to a professional," Arum said. "We think he fights like a real pro, and he doesn't get distracted by all the star stuff that's surrounding him. He's ready. I think he got accustomed to the adulation and the attention over a long period after winning his Olympic medals."