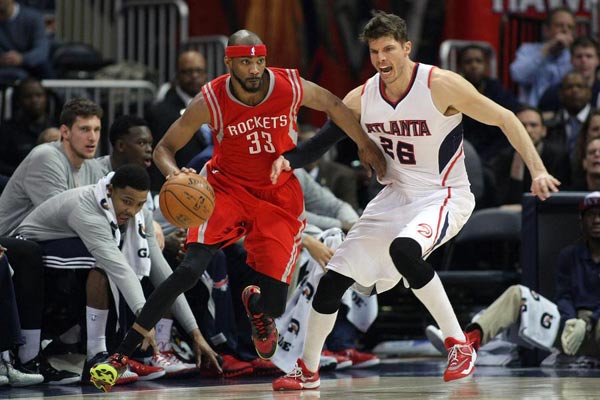 Houston Rockets guard Corey Brewer (33) is defended by Atlanta Hawks guard Kyle Korver (26) in the third quarter at Philips Arena, GA, March 3, 2015. [Photo/Agencies]
WASHINGTON - Jeff Teague scored 25 points as the NBA-leading Atlanta Hawks rallied from an 18-point deficit to a 104-96 win over the Houston Rockets on Tuesday night.
The Rockets led for the most of the game before Teague's 3-pointer with 4:24 remaining putting the Hawks up 91-90.
Al Horford finished with 18 for the Hawks, who win their fifth straight game. Paul Millsap and Dennis Schroder each grabbed 16 points. DeMarre Carroll added 11.
James Harden, the top scorer of Houston, served a one-game suspension and did not play. Terrence Jones had 18 points and Jason Terry finished with 21 points off the bench. Josh Smith contributed 14 points and 7 rebounds.
LeBron James scored 27 points to move into 21st for NBA all-time scoring list as the Cleveland Cavaliers enjoyed a 110-79 win over the Boston Celtics.
James, who has 24,508 career points, moved past Ray Allen to the 21st place on the NBA's career list with a layup in the third quarter. Kyrie Irving was back in action scoring 18 points after missing two games with a shoulder injury and Kevin Love added 12 points.
Brandon Bass scored 15 points for Boston. Isaiah Thomas finished with 11 points and James Young added 9.
Al Jefferson had 21 points and 16 rebounds and Mo Williams added 20 points and 13 assists to lead the Charlotte Hornets over the Los Angeles Lakers 104-103 for their third win in four games.
Williams buried a 3-pointer with a minute left to expand the lead to six and made five free throws in the final 18 seconds to seal the win.
Gerald Henderson scored 21 points and Cody Zeller had 10 points and 11 rebounds for the Hornets. Jeremy Lin led the Lakers with 23 points off the bench and Jordan Clarkson had 19.