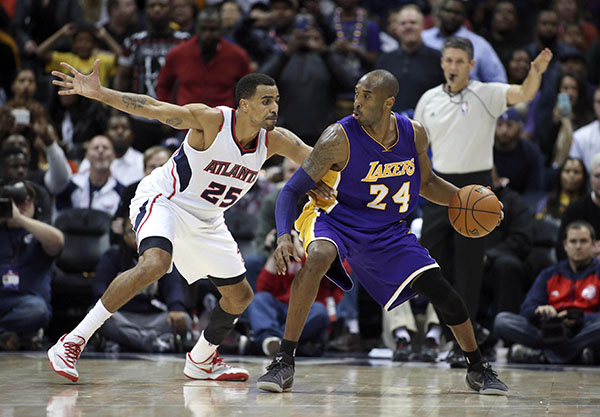 Los Angeles Lakers guard Kobe Bryant (24) makes a move against Atlanta Hawks guard Thabo Sefolosha (25) in the fourth quarter of their game at Philips Arena in Atlanta, Nov 18, 2014. The Lakers won 114-109. [Photo/Agencies, Jason Getz-USA TODAY Sports]
ATLANTA - For Kobe Bryant and the Los Angeles Lakers, it was a rare chance to celebrate.
They didn't pass it up.
Bryant scored 28 points and the Lakers held on for just their second win, beating the Atlanta Hawks 114-109 on Tuesday night.
A locker room that has been solemn most of the season was a lot more raucous this time.
"Man, oh man, that's a lot better," Jeremy Lin said. "It's been a rough start to the season."
Bryant's biggest shot came with 1:11 remaining, when he backed in against Thabo Sefolosha and made a fadeaway jumper despite being fouled. Bryant slapped hands with a fan on the front row and completed the three-point play, giving the Lakers a 108-102 lead.
"It's been tough," Bryant said. "But you find beauty in the process."
The Hawks had a chance to force overtime after the Lakers (2-9) failed to put it away at the line. But Los Angeles smothered long-range threat Kyle Korver, leaving Pero Antic to take an open 3-pointer. It clanked off the rim and the Lakers gobbled up the loose ball to seal the victory.
Carlos Boozer added 20 points for the Lakers. Nick Young, coming back from a thumb injury, had 17 in his first game of the season.
Jeff Teague scored 23 for the Hawks, who lost for the first time at home.