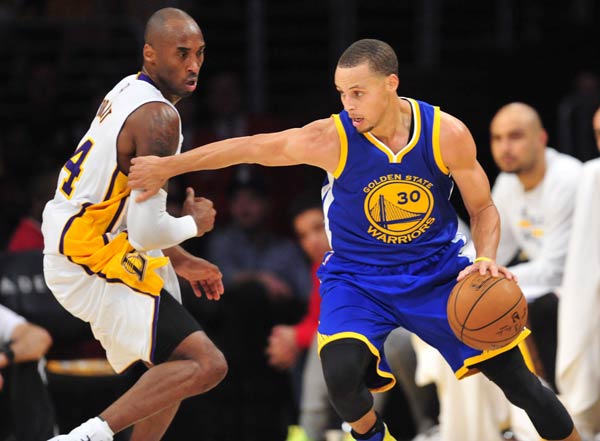 Golden State Warriors guard Stephen Curry (30) moves the ball past Los Angeles Lakers guard Kobe Bryant (24) during the second half at Staples Center. [Photo/Agencies]
LOS ANGELES - Stephen Curry had 30 points and 15 assists as the Golden State Warriors cruised past the Los Angeles Lakers 136-115 Sunday night despite 44 points by Kobe Bryant.
Andrew Bogut had 15 points and 10 rebounds for the Pacific Division-leading Warriors, who are off to an 8-2 start under new coach Steve Kerr. Klay Thompson, who had 41 points in a win against the Lakers on Nov. 1, finished with 18 in the rematch. All of Golden State's starters scored in double figures for the second straight game.
Bryant, who sat out the fourth quarter with Los Angeles down by 36 points, was 15 for 34 from the field in 31 minutes _ two nights after he played sick against the Phoenix Suns and missed his first 10 shots before finishing 1 for 14 with nine points.
Jordan Hill had 15 points and 11 rebounds for the Lakers, who are off to a franchise-worst 1-9 start.
The Houston Rockets beat the Oklahoma City Thunder 69-65 for their third consecutive victory. James Harden scored 19 point and Dwight Howard had 12 points and nine rebounds for Houston.
The last time a team won with 69 or fewer points was Detroit's 64-62 victory over Utah on March 13, 2005, according to STATS. Both teams shot below 30 percent from the field _ the last time that happened was Oct. 29, 2003, when Denver beat San Antonio 80-72.
In other games, the Bucks had a 91-84 win over the Heat, and the Knicks ended a seven-game losing streak with a 109-93 victory over the Nuggets.
Brandon Knight made three 3-pointers down the stretch and scored 20 points, leading Milwaukee to its first win over the Heat in 10 games.
Mario Chalmers scored 18 for Miami, which was again without Dwyane Wade and lost its third straight.
At New York, the Knicks held the Nuggets to one basket in the second quarter.
With the game tied at 31 entering the period, the Knicks outscored the Nuggets 31-8. Ty Lawson's layup at the buzzer was the lone field goal for Denver in the second.
Carmelo Anthony and J.R. Smith each scored 28 points for New York.