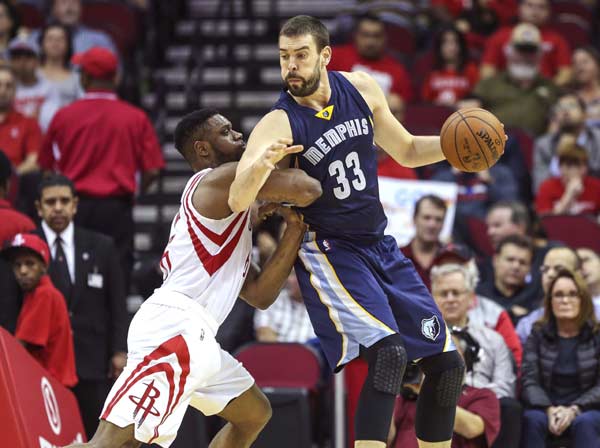 Memphis Grizzlies center Marc Gasol (33) controls the ball during the second quarter as Houston Rockets forward Terrence Jones (6) defends at Toyota Center, Mar 4, 2015. [Photo/Agencies]
HOUSTON - Memphis' Marc Gasol made a jump shot with 0.1 seconds left to give the Grizzlies a 102-100 win at Houston on Wednesday, widening their lead over the Rockets atop the NBA Southwest Division to 2-1/2 games.
The victory kept Memphis in touch with Western Conference leader Golden State, which returned home and beat Milwaukee in a tight game, while other key clashes of playoff contenders saw Portland win in overtime at the Los Angeles Clippers and Cleveland defeat Toronto.
Memphis went ahead with a minute remaining after Courtney Lee made a pair of free throws, but Terrence Jones tied the scores with a hook shot seconds later and Gasol missed at the other end to set up the climactic sequence.
Gasol blocked James Harden's layup with 6.4 seconds left to give the Grizzlies the ball back and he had time left for his winner. Gasol finished with 21 points.
Jones had 21 points for the Rockets and Harden scored 18 in his return after a one-game suspension.
Portland's Nicolas Batum hit a 3-pointer that forced overtime, then set up three alley-oop baskets and added a clinching 3 in the final minute to rally the Trail Blazers to a 98-93 win at the Los Angeles Clippers.
LaMarcus Aldridge had 29 points and Batum added 20 for the Northwest Division leaders, who have won four straight.