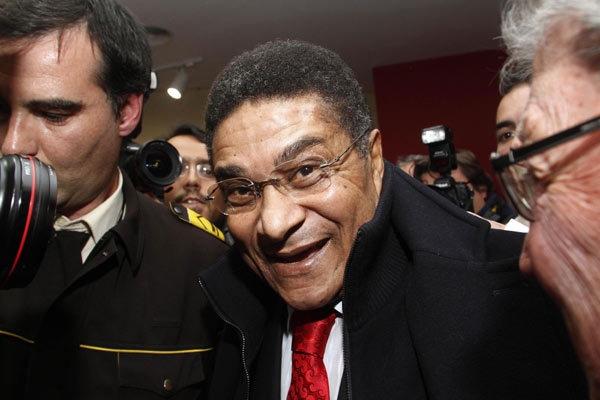 Portugal's former soccer player Eusebio arrives for the launch of his biography at Luz stadium in Lisbon in this January 25, 2012 file photo. Portuguese great Eusebio, acknowledged as one of soccer's greatest ever strikers, has died aged 71, Portuguese media reported on January 5, 2014. The Portuguese sports daily A'Bola said Eusebio had died of a cardiac arrest. [Photo/Agencies]
LISBON, Portugal - A half century later, Eusebio's goals are still a source of wonder in the country where he stood above all others in his sport.
There was the European Cup final against Real Madrid in 1962, when he scored the last two goals to rally Benfica to a 5-3 victory and its second straight continental title.
There was the 1966 World Cup quarterfinal against North Korea. With Portugal trailing 3-0, Eusebio inspired his team, striking for four goals that led to a 5-3 victory.
Eusebio da Silva Ferreira, who was born into poverty in Africa and became one of the world's top scorers during the 1960s, died Sunday at 71.
He died at his Lisbon home of heart failure, his biographer, Jose Malheiro, said. Eusebio was admitted to the hospital several times over the past year for heart and respiratory problems.
"A football genius and example of humility, an outstanding athlete and generous man, Eusebio was for all sports fans and for all Portuguese an example of professionalism, determination and devotion to the colors of the national jersey and of Benfica," Portuguese Prime Minister Pedro Passos Coelho said in a statement.
A bronze statue of Eusebio, poised to kick a ball, stands outside Benfica's Stadium of Light, where fans began laying flowers after his death was announced. Eusebio's coffin was to be taken to Benfica's Stadium of Light so fans could pay respects.