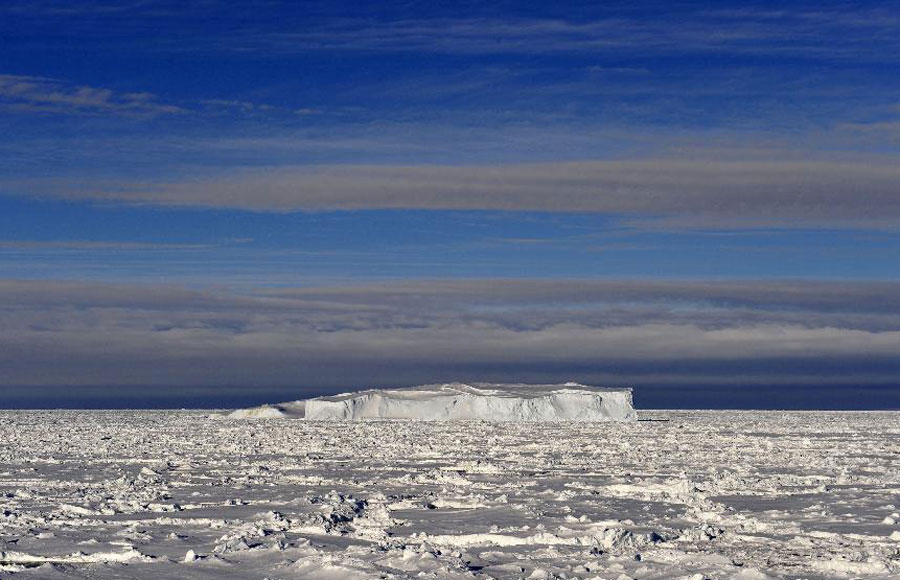 The Chinese icebreaker Xuelong, or Snow Dragon, anchors in a sea-ice field off Antarctica, Jan. 3, 2014. Xuelong is blocked by thick ice after successfully transferred passengers aboard stranded Russian science vessel MV Akademik Shokalskiy Thursday.[Photo/Xinhua]
SYDNEY - The Australian Maritime Safety Authority (AMSA) Saturday confirmed that the Chinese icebreaker Xue Long's attempt to manoeuvre through the ice in Antarctica early this morning was unsuccessful.
Xue Long has confirmed to the AMSA that the ship is safe and it is not in distress and does not require assistance at this time, according to the latest statement issued by AMSA.
AMSA has confirmed that there is no immediate danger to personnel on board the Xue Long and the vessel has food supplies for several weeks.
The Australian vessel Aurora Australia was placed on standby Friday night to remain in open water in the area as a precautionary measure.
The Masters of both Russian vessel Akademik Shokalskiy and Chinese vessel Xue Long agreed this morning that further assistance from Aurora Australis is no longer required and they will be able to provide mutual support to each other.
The previous rescue operation from the Russian vessel Akademik Shokalskiy that was stranded in Antarctica for 10 days had been completed on Friday morning.
All the 52 passengers aboard the Akademik Shokalskiy have been transferred by Xueying 12, a helicopter on board the Chinese vessel Xue Long to safe ice near Aurora Australis, but Xue Long later found itself stranded by ice.
The Aurora Australis now has been released from search and rescue tasking and continues to make its passage to the Casey base to complete a resupply before heading to Australia.