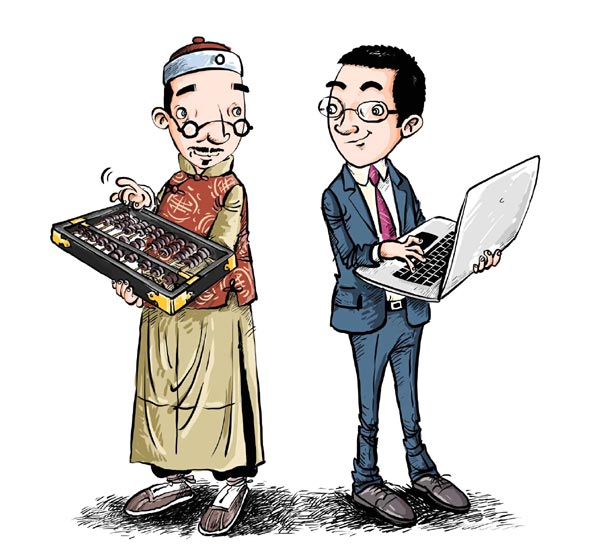 Pang Li / China Daily
Ancient inventions that enriched our ancestors can still inspire us, but they should not be excuses for living in outdated ways.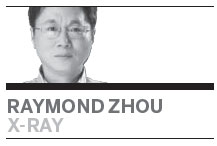 In December, the Chinese abacus was listed as an intangible cultural heritage at the annual UNESCO World Heritage Congress. It was not big news in China. But it perplexed as many people as it made proud: Are we supposed to keep using the old calculating tool, or should we place it in museums?
I grew up with the clicks and clacks of the abacus. I was not very good at it, doing a bang-up job at addition and subtraction only. My father, an old-school accountant, could use two abacuses at the same time like a pianist playing a Steinway. And he tried to teach me multiplication and division on one, but that proved an impossible task for me. Fortunately, the electronic calculator came into my life at the right time, saving me from the embarrassment of using pen and paper to do complex calculations.
I was not the only one to heave a sigh of relief. Students not excelling in the craft of moving the beads along the rods would have the same feeling. We either relied on the scribbling method or mental arithmetic. The abacus was reserved for the smarty-pants. As the world is made up mostly of clumsy people like me, the calculator and the computer quickly replaced the abacus in the lives of most Chinese - probably faster than horse carriages gave way to motor cars.
When I saw an abacus recently, it was on somebody's wall as a decoration - to show off the owner's taste for tradition and sophistication, I guess. He wouldn't have done it three decades ago. Some people want to set themselves apart by doing things opposite to prevailing fashion, which is not a bad thing because most simply adopt the herd mentality. But that does not mean they truly love those things the public has given up.
The UNESCO recognition, in a sense, highlights the cultural value of the ancient tool. But it does not point to its future direction. Some suggested we should start teaching zhusuan (literally, calculation with the abacus) in elementary schools. I wonder how many parents and students would choose it if it was an elective course.
Culture, in the broad sense, refers to ways of doing things. The abacus was what people used for calculation in many parts of the world. I did not know that it went back to the Mesopotamian civilization. Neither did I know that the Chinese abacus and the Roman device were so similar there was conjecture about their origins. And I'm pretty certain that even my father could not do square root and cube root calculations partly because he had little need for them.
For more coverage by Raymond Zhou, click here