The shortage of e-commerce professionals is one of the major problems facing e-retailers in China, said industrial insiders.
The e-commerce market grew 120 percent between 2003 and 2011, compared with just 17 percent in the United States over the same period, according to global consultancy firm McKinsey. It forecast that the China market could be worth between $420 billion and $650 billion a year by 2020.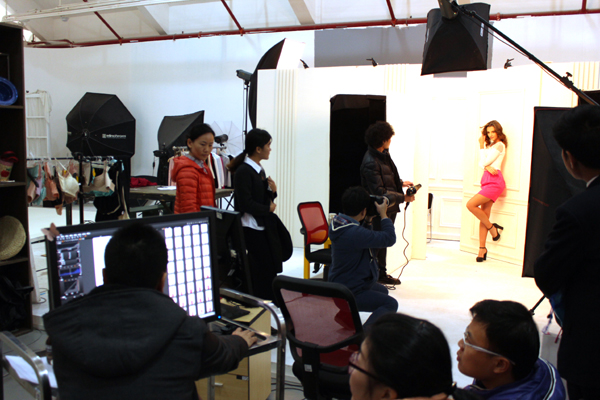 Staff members of Moonbasa take photos for a model on Dec 23, 2013 in Guangzhou. [Liu Zheng/chinadaily.com.cn]
However, a shortage of qualified personnel is hampering further growth.
Brian Hui, vice-president of Amazon China, said that there are many talented people working in the sector, but only a few are equipped with professional knowledge in e-commerce or the Internet of Things.
"The Internet has dramatically changed the shopping habits of Chinese people in a very short time. The development of professional personnel, the development of logistics and the development of technical systems have failed to keep up with the growth of the online shopping market," Hui said.
According to the latest report from 51job Inc, one of the biggest human resource service companies in China, job openings in the IT-related sector in China in September 2013 totaled 390,000.
The demand for e-commerce professionals from e-retailers on Taobao.com, one of the largest B2C online marketplaces owned by Alibaba Group Holdings Ltd, is estimated at around 1 million, according to reports.
And the talent shortage of the entire e-commerce sector in China is expected to reach 4.45 million in the coming three years, said Taobao.com.
Apart from small e-retailers on Taobao.com, big online marketplaces also suffered from the shortage of talent. Yang Donghao, chief finance officer of vip.com, a Chinese leading online discount retailer which has nearly 30 million registered users, said that one of the top challenges facing the e-commerce market is attracting the best people.
Yu Gang, chairman of yhd.com, a leading online supermarket, echoed Yang, saying his company has already expanded its original local recruitment push to a national recruitment drive.
"For example, we've set up a research and development center in Wuhan, even through the company is based in Shanghai," Yu said.
"In addition, we've started to nurture talent inside our own company and promote them to management positions," said Yu.