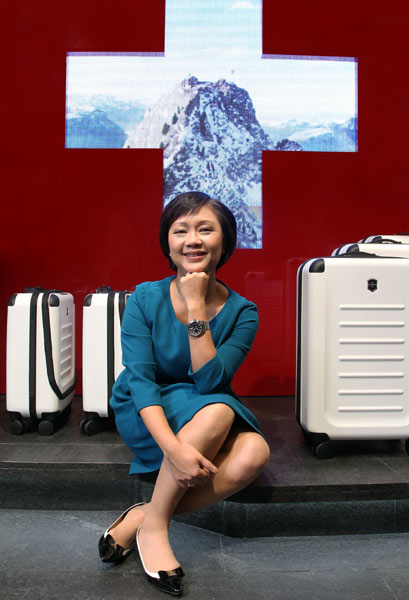 Stephanie Robertson, chief executive officer for Greater China of Victorinox Hong Kong Ltd. [Photo / China Daily]
Swiss brand Victorinox opened its first brick-and-mortar store in China in December, signaling a shift in focus away from sales of its signature product, Swiss army knives, to its full range of goods from luggage and timepieces to cutlery and premium outdoor clothing.
Clothing takes pride of place on the ground floor of its two-story outlet in the downtown shopping mecca of Huaihai Road, organized around its prestige product, a travel blazer. Luggage is stored on upper shelves and the famous multipurpose knives sit mostly behind a wall-mounted glass cabinet on the right.

"This is the first time we're showing all of the products under one roof," said Malaysia's Stephanie Robertson, chief executive officer for Greater China of Victorinox Hong Kong Ltd. Previously, the brand's business in China was conducted on a wholesale basis.
"What the fashion line brings is a sense of newness because it gets refreshed two to three times a year," added Robertson, who has been with the company for two years. She was brought in from Hugo Boss to give the brand a makeover.
The outlet faces a Columbia Sportswear Co store and is part of a cluster of upmarket European and US fashion brands. It was launched on Dec 13 with a hard opening scheduled for March. A second store is due to open in Chengdu, capital city of Sichuan province soon to tap the vast West China market.
Knives make up the largest share of the Swiss brand's China sales, followed by luggage. Meanwhile, the newly introduced fashion line aims to bring its "timeless-but-trustworthy" image racing into the present.
Robertson also believes Chinese shoppers are now savvy enough to appreciate high-quality outdoor travel goods over trophy purchases, thus creating a lucrative new niche for premium products.
"I think the luxury market has reached its peak in China, but because of its immense size it will be maintained for a while," she said.
"Now consumers here have more confidence to buy what they like, rather than what they think they should buy - and to step away from the group mentality and this obsession with luxury. They are better traveled and less susceptible to peer pressure. The recent rise of premium malls in China supports this," she added.
Yuval Atsmon, a consultant at McKinsey & Co Inc, said customers in the upper- and middle-class bracket are prepared to spend more on "premium apparel brands that build strong value by offering both emotional and functional benefits - similar to how luxury brands have generally done so well in China.
"This should accelerate because what we define as the upper and middle class (households with more than 100,000 yuan ($16,402) in annual income) will rapidly swell to account for more than half of the urban population by 2020, compared with about just 10 percent in 2010," he added.