Opinion
/
China Dream in expats' eyes
Editor's Pick: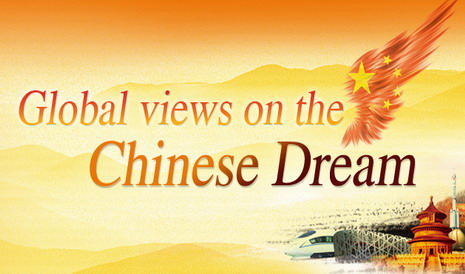 Since Chinese President Xi Jinping first used the concept of "Chinese Dream" on Nov. 29, 2012 in Beijing, it has resonated with the world's common aspiration of development. Here we bring stories by expats who pursue their own Chinese Dream.

[2014-08-26 16:00]
I post a lot about education, learning English and the schools where all of this happens. Here's a short list of 5 things that I believe should happen in Chinese education.

[2014-08-15 20:39]
I'm kind of horrified by Chinese (and other Asian) people's interest in disproportionate faces.

[2014-08-12 15:52]
The language problem impacts on every facet of life here and I recommend that before any foreigner is posted to China they are sent on an intensive conversational Chinese language course

[2014-08-08 16:18]
A recent hot discussion on Chinese social media has been about the sorry physical appearance of Chinese men compared to women, who take more pains to look fashionable and attractive.

[2014-08-05 17:48]
If you want art to help you understand reality, then Peking opera is not for you. It never has faced reality, it has always been a heavily stylized art.

[2014-07-31 17:22]
I remember a phrase: the thing that mostly terrifies you is large enough and changing rapidly. Absolutely, China meets both of these.

[2014-07-24 18:52]
Chinese characters have evolved over thousands of years. The quintessence of Chinese civilization and culture has thus been handed down from generation to generation.
[2014-07-14 17:18]
I am positive! I am trying to contact employers in China but my nationality is a big question mark. I miss everything in China.

[2014-07-07 15:56]
I received a message from a Sino-Western educational think tank in Beijing interested in my thoughts and consultation regarding education in China.

[2014-07-03 16:26]
Every continent has its own great spirit. Populations are polarized in some particular locality with their homeland.

[2014-07-01 17:24]
I was born in the 1980's. My generation stands at a turning point between traditional and cultural values.

[2014-07-01 17:24]
The concept of gap year is that young people originally from Europe and the United States before entering the university will choose travel instead.
...