Travel rush takes shine off Golden Week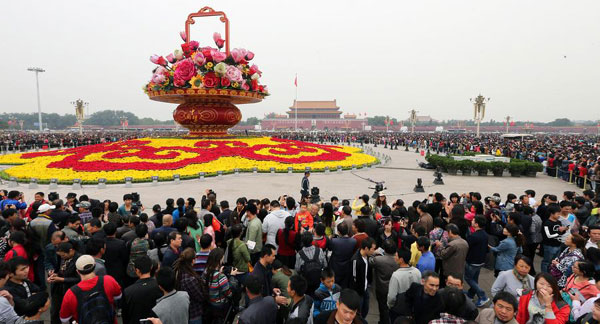 The Tiananmen Square is crammed with tourists on the first day of the Chinese National Day holidays in Beijing in this file photo. [Photo/Xinhua]


About 710 million trips are expected to be made during the National Day holiday, which will result in traffic jams and crowded trains and scenic spots. How to ease the Golden Week rush? Two experts share their views with China Daily's Zhang Zhouxiang:
Let's have one Golden Week per season
Liu Simin, vice-president of tourism at the Beijing-based Chinese Society for Future Studies
Over the past decade, people's desire to travel has increased as their incomes have increased. However, much of that travel takes place during the country's two Golden Weeks, namely the National Day holiday and Spring Festival holiday. And since most people tend to go home for family reunions during Spring Festival, the National Day holiday is the one that sees the most long-distance leisure travel. No wonder it ends up a golden rush each year.
This situation can only be prevented by granting the working population more public holidays long enough to support long-distance leisure travel.
More importantly, more Golden Weeks would help facilitate the country's economic transformation since they would boost the service industry and help to realize consumption-led economic growth.
Instead of simply putting more public holidays on the calendar, they should be properly arranged to ensure one Golden Week per season. For example, the first weeks in May and August are good candidates for new Golden Weeks. In this way, the travel rushes we face each year could be eased.
Greater use could be made of weekends
Gong Jian, an associate professor at the Wuhan branch of China Tourism Academy
Travelling is becoming an increasingly popular habit as people gain more spending power. However, although many people have the money to travel, they do not have the time.
That's why the Golden Weeks were introduced; two weeklong holidays, one in spring and one in autumn. But these Golden Weeks have to meet the tourism needs of the whole nation. In other words, they are like carnivals in which everybody celebrates together.
China's domestic tourism market has become the world's largest, while its outbound tourism is the second largest; so it is time to rethink the Golden Weeks, which is also part of the ongoing supply-side reform.
The principle of the reform should be allowing people to take a rest according to their own schedules and preferences. Given more choice of when to take a holiday, people will naturally arrange their leave and travel at different times of the year.
The most effective measure is, of course, to strictly implement the paid-leave system. In July 2015, People's Daily quoted a report from the Ministry of Human Resources and Social Security saying that about 50 percent of employees nationwide enjoy paid leave. The Labor Law should be more strictly implemented to ensure people enjoy their right to paid leave.
Besides, greater use could be made of the weekends. In August 2015, the State Council, China's Cabinet, issued a document encouraging employers to let employees take turns to rest on Friday afternoons in summer. More than 10 provinces adopted the measure in 2016, which proved quite good in practice, because people had an additional afternoon for travel. More provinces could consider following suit.